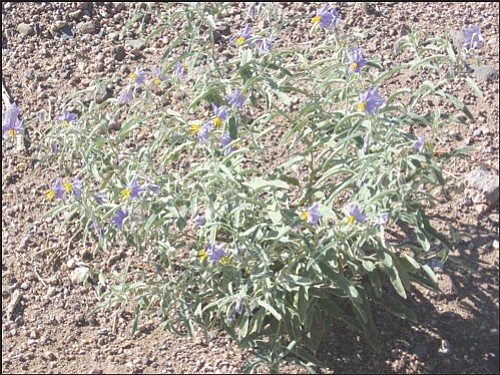 Originally Published: September 18, 2009 6 a.m.
Let me describe this perennial to you. It is a branched, deep-rooted, perennial herb, 1 to 4 feet tall.
Slender, yellow spines occur on the stems of the plant. The lance-shaped leaves are 1 to 4 inches long by 1 inch wide. They are covered with short, silvery-white hairs that give the plant a dusky or silver-gray color. The blue-violet or rarely white flowers have two fused petals, 3/4 inch across, with bright yellow stamens. Flowers grow on stalks in clusters or singly at the end of stems or branches. The fruits are yellow to brownish, juicy berries, 1/2-inch in diameter. Seeds are flat, brown and small.
This verbal portrait makes this plant sound pretty, but I will tell you one more thing. It is pretty deadly.
This plant's berries are toxic to people and animals. Hopefully, people won't attempt to eat it, but animals in open fields and range may, in the process of grazing, ingest it. Poisoning symptoms may include rapid, labored breathing, salivation and slobbering, nasal discharge, trembling of muscles in back legs, etc.
So how does that affect me? I am sure if you take a walk in your neighborhood, you will see several plants. You just need to know what to look for. I saw several plants in neighbors' yards near my house. I saw several plants along Beale Street. These plants are everywhere. They are a noxious weed. They are NOT just a pretty face.
This plant is silverleaf nightshade. It is adapted to semi-arid regions (think Kingman). The plant typically occurs on coarse-textured, sandy soils (think Kingman). In its native range, silverleaf nightshade is a problem in areas where the vegetation has been removed, such as roadsides, construction sites, livestock feeding and watering areas, and cultivated fields.
Silverleaf nightshade is a summer-growing perennial plant with an extensive root system. Roots can grow very deep, from 6 to 10 feet. The roots can extend horizontally to produce shoots 6 feet away from the parent plant.
Shoots start to emerge from established plants as the soil warms in late March and early April. Plants may begin to flower in early May. Ripe fruits may be present in June, and some seeds are viable the season they are produced. Plants die back in winter and reappear from roots in the spring.
Solanum elaeagnifolium, silverleaf nightshade, can spread by seed, rhizomes, and/or root fragments. Flowers are cross-pollinated by insects. Individual berries produce 24 to 149 seeds which can add up to 5 million to 100 million seeds per acre.
Removing the plants are tricky. Cutting the top of the plants can help by preventing seed production. But this topping of the plant encourages longer root fragments, which result in more shoots and faster growth.
Herbicides can be effective, and it is important to eliminate this plant. After reading how prolific this plant is, it can easily take over your yard.
Look for herbicides that contain glyphosate, 2,4-D, and dicamba. Read the label carefully and thoroughly. Make sure you comply with the directions and precautions.
Now is the time to eradicate this pest. You want to get it now before the seeds are dispersed.
Don't be fooled by the hardiness and delicate appearance of silverleaf nightshade.
It is deadly and toxic.