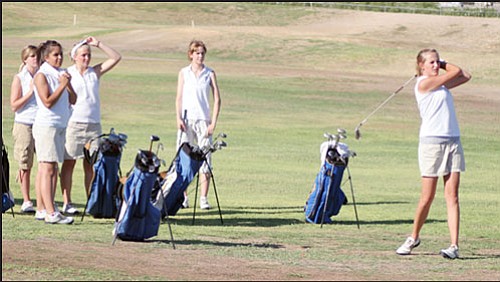 Originally Published: September 21, 2009 6 a.m.
KINGMAN - Golf is a game that 75 percent of the Kingman High girls team has picked up in just the last three months, and the Bulldogs gained a lot of experience this past week with two matches and the two-day Lake Havasu Invitational.
"It's been steady progress," KHS coach Ken Stalsberg said. "The girls are committed to practice and are loving the sport. We're mostly new golfers."
KHS (1-2, 2-7) picked up its first region win, and second overall, when the Bulldogs defeated Surprise Valley Vista 306-328 Sept. 14 at Cerbat Cliffs Golf Course. Lake Havasu won the three-team match with a 280.
"It was a busy week," Stalsberg said. "We started it by beating Valley Vista, and the girls were real happy, real glad. They've put in a lot of hard work."
The Bulldogs went to Havasu Wednesday, where they finished behind the Knights' 196, Yuma Kofa's 203 and Yuma Cibola's 229. KHS shot 242.
Sophomore Haley Moon was low scorer for the Bulldogs in those two matches, including a 52 against Valley Vista. When KHS took part in the Havasu Invitational Thursday and Friday, the Bulldogs were minus Moon.
KHS took second in the tournament without Moon, the team's No. 1, and finished a respectable 27 strokes behind Havasu. Mohave took third with a score of 246.
"I thought we did really good," Stalsberg said. "That was good for the team to have to play without Haley. Our two freshman, Brianna Peterson and Taylor Stephens, had outstanding weeks."
Peterson shot the low score for the Bulldogs at the invitational.
Junior Claire Weisberg has entered into the mix of landing in the starting lineup, Stalsberg said. Weisberg picked up her first club when the Bulldogs began practicing in August.
"Claire has shown the most improvement," Stalsberg said. "She shot a 65 on Monday and a 61 on Tuesday."
Weisberg is definitely not afraid of putting in the hard work needed to learn the game, and she's already learned a lot of the difficulties that golf presents.
"Every day you learn new problems you have to overcome," Weisberg said. "But I'll get better. I'm always working on it. I'm at the driving range just about every weekend."
This week will be another busy one for the Bulldogs, as they take two trips to Phoenix. KHS plays Boulder Creek in Anthem Monday, and faces Peoria Centennial and Glendale Deer Valley Wednesday. Boulder Creek and Deer Valley are in the Northwest Region with the Bulldogs.
"They're all new courses for most of the girls," Stalsberg said. "I'm looking forward to see how they do in region play."