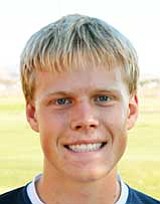 Originally Published: September 23, 2009 6 a.m.
KINGMAN - After six of the seven starters for the Kingman High boys country team came in under 20 minutes at the Four Corners Invitational Saturday in Flagstaff, the Bulldogs got a sniff that a promising season could be at paw. KHS will try to use its momentum when it runs the Lake Havasu Invitational at 9 a.m. Saturday.
The Bulldogs came in a strong 12th place out of 30 teams in Flagstaff, which put some bounce into their steps.
"Our energy at the finish line was cool because we knew we did well," KHS' only senior Dominic Tapia said.
"The boys had an excellent meet," KHS coach Anne Bathauer said. "To do this well and be so young is exciting."
Junior Jesse Peterson led the Bulldogs with a time of 17 minutes, 32 seconds and 34th place over the 3.1-mile course. It was Peterson's goal to break into the 17s this season, and he's already taken a minute off of last year's time.
Sophomore David Haun took 53rd and was followed by Tapia (80), freshman Preston Hammond (105) and Jesus Lozoya (113). Kevin Gibelyou and Shaun Wooten also ran for the Bulldogs.
Haun finished in 18:06 and showed he's ready to join Peterson in the 17s.
"For a sophomore, that's pretty exciting," Bathauer said. "Jesse and David should start pushing each other to faster times."
Tapia was extremely pleased with his race. His time, 19:00, was in his normal neighborhood, but it was the way he ran the race that had him electrified.
"I used a lot of strategy," he said. "I paced myself and tried to make sure each mile was faster, and that I was where I should be."
Inexperience slows girls
Freshman Paige Cardiff came in 29th place, worth 25 points, to lead KHS, but the Bulldogs have four of their five runners with just three races under their belts and finished 17th out of 19 teams. Cardiff had the chance to finish higher, but even her inexperience showed itself.
Cardiff lost mental focus in Mile 2 when she slowed down and was caught by as many as 40 competitors. Bathauer said she was able to get to Cardiff at the end of that mile and exhorted her to move.
"I told her she had to go," Bathauer said. "And she did."
After the first mile, Cardiff was in fourth position before she dropped off. Cardiff rallied in the final 1.1 miles to finish the race at 21:18.
"That's still an outstanding time for a freshman," Bathauer said.
Sophomore Teyshia Solano showed some progress with her 103rd-place finish in 24:09. Solano has now improved by more than two minutes from her personal best last season.
"Teyshia needs to keep pushing at practice," Bathauer said. "That'll start getting her nearer to Paige."
Senior Myreel Pease followed Solano, with Heather Paulsteiner and freshman Megan Yellowman on her heels. The trio finished within three seconds of each other.
"The girls have to push harder in the races," Bathauer said. "Most are inexperienced, and I'll have to see what happens in Havasu this weekend to have a better idea of what the girls need to do."
KHS has entered the midseason, and Bathauer continues to praise both of her teams for their progress.
"All the times were faster," she said. "Our workouts are working for them. They just need to keep their focus now."