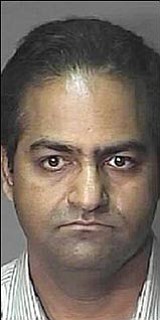 Originally Published: September 24, 2009 6 a.m.
KINGMAN - Dr. Ilangovan Govindarajan began his six-month prison sentence Monday after a bid by his lawyers to have him serve his sentence under terms of a work release program was rejected.
Dr. Govan, as he is referred to by his patients, will be housed in the general population of the Mohave County Jail. He pled guilty to six counts of aggravated assault on healthcare workers after originally being charged with 16 counts of sexual abuse, 15 counts of aggravated assault and one count of assault.
Govan was accused of inappropriately touching female employees between 2003 and 2008. He is still allowed to practice medicine, although his medical license is currently under censure and on probation for five years. A licensed healthcare provider chaperone was to accompany him during any visits with female patients before he began his sentence.
Govan's lawyers argued that sending the doctor to prison affected more than just the defendant.
"It is not a matter of incarceration being 'inconvenient to his business interests' as characterized by the state," the defense's motion read. "Rather, after investigating the work release program restrictions, it became apparent that Dr. Govan would not be able to practice medicine if incarcerated. Any surprise expressed by Dr. Govan reflects his concern for his patients and their welfare, not a sense of entitlement."
Several patients wrote the court letters in support of having the doctor serve his sentence under terms of the work release. Several said they are homebound with complex conditions and that Dr. Govan is the only Kingman-area physician willing to do house calls.
More like this story