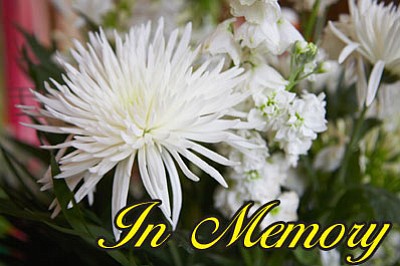 Originally Published: April 2, 2010 6 a.m.
Joseph R. Wheeler, 89, of Kingman passed away Friday, March 26, 2010, at the Cerbat Guest Home in Kingman.
He was born Sept. 17, 1920, in Hutchins, Ky., to Joseph Wheeler Sr. and Ruie Blankenship Wheeler. He came to Kingman 28 years ago from California. He married Mildred Stump on May 1, 1943.
After three years of college, he joined the U.S. Navy and served from 1944 to 1946 as an aircraft engineer. He completed his Aeronautical Engineering degree while in the Navy. He retired from Boeing Aircraft; Mildred was also an aeronautical engineer with Boeing. Together they volunteered at the Mohave Museum, Mohave Community College and formed a musical group, Best Friends.
He loved music, art and the theatre.
Joe was preceded in death by his parents; his wife Mildred on March 9, 2006; and one brother, Robert, who died while serving in World War II. He is survived by two cousins, Ronald Prichard and Barrett Prichard of Grayson, Ky.
There will be a memorial service at 4 p.m. Saturday, April 3, at Good Shepherd Lutheran Church, 3958 N. Bank St.
Inurnment will be at Mountain View Cemetery beside his wife.
In lieu of flowers, donations can be sent to Mohave Museum of History and Arts or Good Shepherd Lutheran Church.