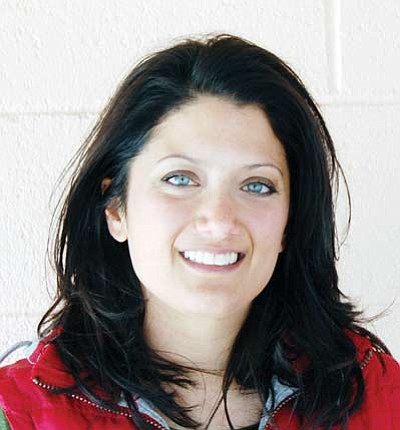 Originally Published: April 4, 2010 6 a.m.
KINGMAN - In a move designed to keep a sense of stability in the program, Kingman High athletic director Tim Casson announced that Traci Rosenbach would take over the volleyball program. Rosenbach replaces Kasie Juelfs, her sister who stepped down after two years at the end of the 2009 season.
"We feel it'll be an easy transition because Traci has been with the program for four or five years," Casson said. "I was hoping she would apply. She does a good job communicating with the kids, and she knows volleyball."
Rosenbach wanted the job when Juelfs got it two years ago. She decided to pass up the opportunity because she was pregnant. Rosenbach helped out that year with the team as much as she could, and then returned for the 2009 season on a full-time basis.
"I wanted to feel comfortable before moving up to varsity," the new coach said. "I've coached at every level, and now I feel comfortable."
Rosenbach, a KHS graduate, coached 7th- and 8th-grade boys and girls volleyball for two years in Chicago, a year in Prescott Valley, two years at Kingman Jr. High and three years at the JV level at KHS.
"I've been coaching since I graduated college at NAU," she said.
KHS loses nine seniors from last season's squad. Rosenbach said she had coached those nine since they were in the seventh grade and is excited about the changes.
"It's a new group for me," she said. "Some I haven't coached before, so it'll be nice to get some fresh faces."
The loss of all those seniors doesn't equate to the Lady Bulldogs being young, as many juniors were on the JV team. Rosenbach hopes she can get the girls to commit 100 percent to the team so KHS can get to the high level of play necessary to compete with Phoenix.
"The Phoenix teams play year round, whereas in Kingman, we don't have that," she said. "Our girls need to commit this summer, go to camps - and when it's volleyball season, focus on volleyball."
Rosenbach wants to take the varsity girls to a camp in Tucson over the summer where they will get in a lot of drills and games.
"I really think that's a good idea," she said. "Being a new team, we need to try and do that. Hopefully, they'll unite."
The coach will have the program host its annual Bulldog camp, scheduled for the first week in August. Rosenbach would like for the Lady Bulldogs to be known for defensive prowess during her tenure.
"I think defense can beat offense," she said. "We won't have a lot of big hitters, so it would be really wise to focus on defense."
The new job and players has Rosenbach looking forward to the start of volleyball.
"I am excited because I'm finding out that girls are saying volleyball is their favorite sport," she said. "A lot of them are talking about playing in college, and I haven't seen that in quite a few years."