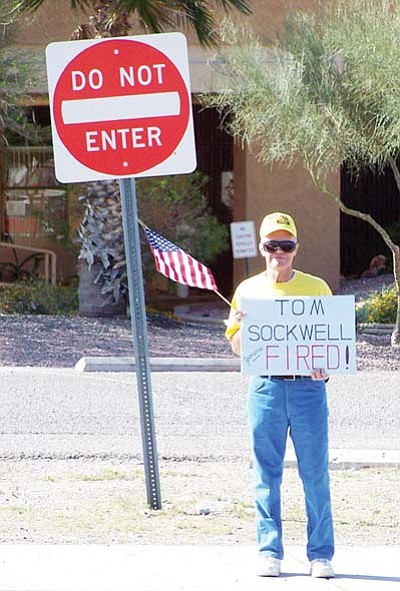 Originally Published: April 5, 2010 6 a.m.
KINGMAN - Golden Valley resident Luca Zanna and a group of about 25 other residents from Bullhead City and Golden Valley protested and collected recall petition signatures in front of Board of Supervisors Chairman Tom Sockwell's Office Thursday.
As of Wednesday, Zanna said he had about 700 of the more than 3,700 signatures he needs to place the recall of Sockwell on the fall ballot.
He also claimed that the county did not completely fulfill a public records request he made March 5. In the request, Zanna asked for any and all e-mails addressed to the three supervisors, County Manager Ron Walker and County Attorney Bill Ekstrom that included the names Gianaluca Zanna or Bridget Langston, his wife.
Missing from the requested e-mails, according to Zanna, was one from a Patricia Moran of Pittsburgh. Zanna said he knows Moran and she told him she had sent an e-mail to all three supervisors about the events involving Zanna and the county.
In November, Zanna was asked to stop handing out flyers detailing the voting record of Sen. John McCain before a public town hall meeting held by the senator at the County Administration Building. Zanna believes his First Amendment rights were violated when he was asked to stop, especially since the county did not have a written policy at that time preventing political material from being passed out by a member of the public.
The county has since created a written policy, banned weapons from the county building and instituted a dress code.
Moran sent Zanna a copy of her e-mails to and the replies from Sockwell. In one of his replies dated March 4, Sockwell states, "Never in my life have I had an e-mail or telephone conversation with Mr. Zanna."
In a letter to the editor published in the Miner in January, Sockwell stated that he spoke with Zanna on Nov. 3.
Zanna said he did eventually receive a copy of Moran's e-mail from Supervisor Gary Watson.
County Public Information Officer Darryle Purcell said that Zanna received all the e-mails the county had pertaining to his records request at the time and that the county followed all procedures in filling the request.