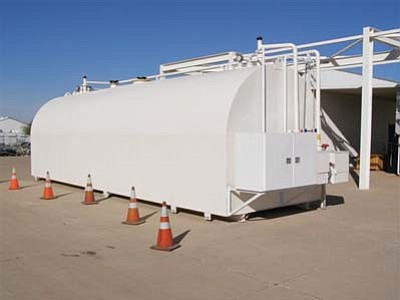 Originally Published: April 7, 2010 6 a.m.
KINGMAN - The Kingman City Council on Monday cleared the way to allow above-ground fuel storage tanks in certain commercial areas.
By a 5-1 vote, Council voted to amend the city zoning ordinance to permit gasoline and diesel tanks with a capacity of up to 15,000 gallons to be built in the C-3: Commercial, Service Business zoning district under a conditional use permit.
Previously, the city only allowed such above-ground tanks in industrial zones, and even then only with a CUP in I-1: Light Industrial zones. The I-2: Manufacturing Industrial zone will remain the only zoning district to allow such tanks outright.
The amendment preceded a request by UNS Energy Services to construct a 12,000-gallon fuel storage tank on the grounds of its facility at 2290 Airway Avenue, which is only a few hundred feet from the campus of the Kingman Academy of Learning.
UES spokesman Mike Gibelyou said his company was seeking the tank in order to centralize the refueling operations for its local vehicle fleet, which would save money by lessening the need for individual fuel tankers to drive back and forth.
Arguing in favor of the amendment, Gibelyou claimed that modern above-ground fuel storage tanks bear little resemblance to the tanks used a generation ago, and are much safer and better at containment in the event of a rupture. The Kingman Fire Department has also stated that the proposed tank meets all requirements of the city's fire code.
"This is not a 1960s tank, this is a 2000s tank that's got all kinds of safety features," Gibelyou said. "It's double-wall construction, and if the inner tank ruptures, the outer tank will actually contain 100 percent of the volume."
He added that the particular tank UES was looking to install would produce less overall environmental impact than a below-ground tank due to much easier detection of leaks, and in the event UES were to ever leave the premises, it would be easier to take the tank with it rather than have to dig up a below-ground tank. Furthermore, he said, an above-ground tank would use air pressure and gravity rather than an electrical pump to distribute fuel, lessening the possibility of an accidental ignition.
"It provides a great opportunity for us as far as economics and also emergency back-up," he said. "If there was some situation where there was a power outage and our vendor was out of power, we could not get fuel for our vehicles - we could not go out and help restore power with our vehicles."
Gibelyou further maintained that while UES does currently have the option of installing a below-ground tank at its site, the company has adopted a policy of avoiding them due to the potential liability concerns.
Vice Mayor Janet Watson asked if UES had considered building the above-ground tank in one of the zones that already allow them. Gibelyou admitted that it could, but that would thwart UES's goal of having a centralized fuel distribution center in a convenient location with 24-hour occupancy and immediate dispatch capabilities in the event of an accident. To put the fuel tank in an isolated industrial zone, he said, would lessen any potential fuel cost savings the tank would provide and would also require a longer response time, should something happen to it.
"We just feel it's better all around," he said.
Councilman Keith Walker agreed with most of Gibelyou's points, adding that he had seen brand new service stations beginning to build above-ground tanks as well. Councilwoman Carole Young also agreed, sharing her experience of when an above-ground tank helped keep her remote town functioning after it was hit by an ice storm in the 1970s.
The amendment had received one letter of opposition, citing concerns over the explosive potential 12,000 gallons of fuel could present, but no one aside from Watson spoke against the amendment at Monday's meeting. Instead, Councilwoman Robin Gordon made a motion to approve the amendment, noting that Council was only voting on the amendment and not UES's specific tank request, which will likely come up at a subsequent Council meeting. Walker seconded and the motion passed, with Watson's the sole dissenting vote.
In explaining her vote, Watson said she did not agree with the precedent Council was setting, adding that it had essentially opened the door for any business in a C-3 zone to request an above-ground fuel tank.
"What does this do to the value of industrial sites that already have the zoning for it?" Watson asked. "If this Council is ready and prepared to change this and hear company after company come and appeal for an above-ground tank, this is only going to be the first."