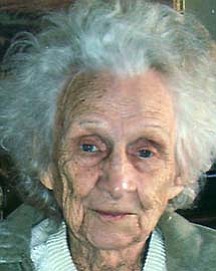 Originally Published: April 7, 2010 6:01 a.m.
Mae Sabra Pentland, 95, of Kingman passed away Sunday, March 4, 2010, in Kingman. She was born Oct. 20, 1914, in Pottawattamie County, Iowa. She came to Kingman 21 years ago from Prescott. She was a housewife.
Mae is survived by two daughters, Charlene Bochenski of Arizona and Diana Rachel of California; four grandchildren; four great-grandchildren; and three great-great-grandchildren.
A graveside service will be at 10 a.m. Thursday, April 8, at Mountain View Cemetery, 1301 Stockton Hill Road. Flowers can be sent to Sutton Memorial Funeral Home, 1701 Sycamore Ave.
More like this story