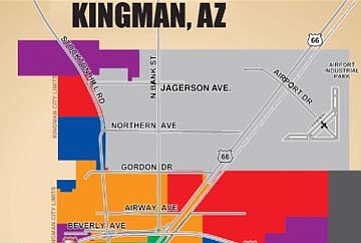 Originally Published: April 8, 2010 6:01 a.m.
KINGMAN - In a special session Monday afternoon, the Kingman City Council redoubled its efforts to craft a competent, long-term annexation strategy, with Council members offering varying opinions on where to start.
The meeting, which lasted just over a half-hour, gave Council members the chance to reflect on the city's annexation history, as well as explore areas identified by previous Councils as the next logical steps for the city to take. Just last year, Council approved the annexation of about 800 acres along the city's eastern boundary to prepare for the eventual construction of the Rancho Santa Fe I-40 traffic interchange, and the city is already in the process of annexing an additional 1,700 acres immediately east of that.
Those annexations are not enough to satisfy Councilman Ray Lyons, himself a longtime proponent of more aggressive annexation. On Monday, Lyons argued that the current city limits are nowhere near where they should be and thus do not adequately represent the city's expansion over the years.
"Compared to other cities, our border is 'inside' the city," Lyons said.
"It should be out past the vacant land. Most of that vacant land should be inside the city so that when it's developed, it can be developed to city standards."
In the past, Lyons said, the city had been more reactive than proactive toward annexation, moving forward with it only after first being approached by citizens or developers who wanted their land to be annexed.
As a result, he said, many of the city's sales tax contributors live outside the city limits in areas like Butler and Golden Valley in such concentrations that to attempt to annex them now would be prohibitively expensive.
Councilwoman Robin Gordon agreed with that assessment, adding that it was morally wrong that so many of the people who pay into the city's coffers are left with no actual representation in the city itself, They also do not benefit from any of the city's services such as trash pickup or police protection. She argued that the city needs some kind of plan, be it 5, 10 or 20 years in scope, that looks to eventually expand the city limits all the way to its water service boundaries, which would incorporate all of Butler as well as the Kingman Airport and Industrial Park.
"I know that's aggressive, but until we have some sort of plan and really start looking at it, we're never going to address the problem," Gordon said. "Getting some vacant land is a good idea, but I think we need to not forget the people that live outside the city limits who are currently shopping in our stores and paying the city sales tax yet have no say over how those funds are spent."
While he was fine with drafting a long-term plan, Lyons said the city should begin new annexation efforts immediately, not five years from now. He said an ideal starting point would be to go up Bank Street to incorporate Kingman High School into the city limits, since high school administrators have previously voiced a desire to become part of the city.
At that time, roughly five years ago, Lyons said the businesses opposite the school on Bank Street were unwilling to agree to the annexation and the idea fell through. Lyons argued on Monday that the city should go back to those businesses and survey them again as well as additional businesses along the south side of Northern Avenue.
"I think that's the first place we should begin," Lyons said. "We need to get busy annexing, and I wish we could get started right away on that piece of land; Kingman High School should be in the city, not the county."
Councilwoman Carole Young agreed that the city should attempt to pursue annexing the high school as well as any vacant land around the city that is "feasible and economically logical to do." Mayor John Salem also agreed with incorporating the high school, but he added that it was imperative the city annex both sides of Bank Street to avoid any conflicts over street maintenance. He also agreed that the city should annex as much vacant land as it can up to the boundaries of surrounding area fire districts.
Salem said the main obstacle to annexing Butler is the fact that, without a property tax, the city would be looking at providing services to thousands of more residents without the benefit of any new sales tax revenues to fund them. City Attorney Carl Cooper pointed out that the city could be sued if it were to annex Butler, since the existing trash pickup in that area is provided by Waste Management, which contends it cannot compete with what the city charges for twice-a-week trash pickup.
City Manager Jack Kramer added that even if the city were able to annex Butler, it would eventually have to replace that area's two-inch water lines with higher volume six-inch lines to supply enough water for proper fire coverage. That, he argued, would be extremely expensive and time-consuming.
Councilman Keith Walker asked what kind of property tax would have to be levied for the city to "break even" on annexing Butler. Kramer replied that staff would have to crunch the numbers to get a reliable figure, but he said at the bare minimum the city would have to charge the existing rate of $285 on every $1,000 of assessed value annually just to maintain the current fire service in Butler.
Gordon argued that while annexing all of Butler in one move would bankrupt the city, the city could look at annexing small pieces at a time, with the eventual aim of incorporating the whole area in a sustainable fashion. Salem suggested starting with Bank Street from Gordon Drive to Northern Avenue, then slowly moving west toward Stockton Hill Road over the next decade. Vice Mayor Janet Watson lent credence to the idea, arguing that both Bank and Northern are situated to eventually draw a number of new businesses capable of bringing in enough sales tax to pay for the annexation.
Salem directed staff to begin drawing up new plans for the next 5, 10 and 20 years, including annexation of the high school and the west side of Bank Street, as well as a detailed cost analysis of each potential step.
More like this story