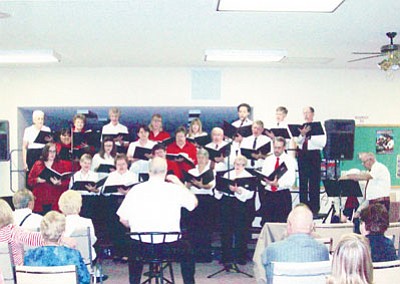 Originally Published: April 15, 2010 6 a.m.
KINGMAN - The Mohave Community Choir will perform its last concert of the season this weekend.
The choir will present a variety show of songs during its free performance at 7 p.m. Saturday at Good Shepherd Lutheran Church, at the corner of Bank Street and Gordon Drive.
"We always do a variety, so people can say, 'Oh, I don't like that one, but I love that one,'" said Roger Johnson, who has been directing the choir for more than a year.
Saturday's concert will include a medley of television theme songs, and a variety of songs with water as the theme, including "Bridge Over Trouble Water." The choir will close the show and its season with what Johnson described as a stirring rendition of "Let There Be Peace on Earth."
"Each year the performances just get better and better," he said.
The Mohave Community Choir began in 1997 and puts on three shows a year, with performances in April, October and December. The choir averages about 35 singers from year to year, and Johnson said it is currently in need of more men to sing tenor and bass parts.
The choir is open to anyone ages 16 and up, with the only requirement being that they like to sing.
"We take our music seriously, but we like to have fun with it," he said.
Ginni Potts has been a member of the choir since 1997 and remembers some performances where the crowd was standing-room-only.
"I like the professionalism that is expected of the members," she said.
In addition to hosting concerts, the choir also funds a number of scholarships to local youth to help fund student music camps, private lessons and continuing music education. The choir awarded 20 scholarships this year and helped fund a trip to California for around 20 Golden Valley middle school students to attend a workshop to learn vocal skills.
The choir's concerts are free, and donations made by audience members help fund the scholarships.
After a summer hiatus, the choir will begin rehearsals again in August.
The rehearsals are held from 6:30 p.m. to 8:30 p.m. every Thursday at Good Shepherd.