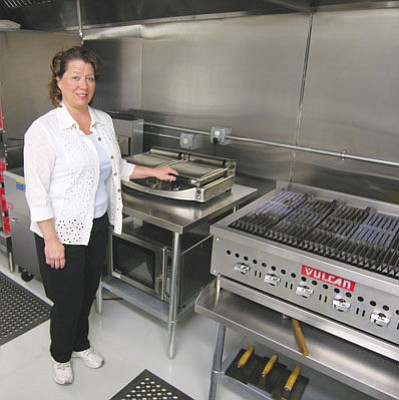 Originally Published: April 16, 2010 6:01 a.m.
KINGMAN - The former owner of the Kingman Deli is back in town and ready to reopen later this summer.
Dora Manley, who used to operate the deli at 419 E. Beale St. before selling it in 2006, moved back to Kingman from Phoenix last year. And ever since her return, she said, she's dreamed of the day she might once again serve her old customers their favorite sandwiches.
"I had owned the Old Town Coffee House - I bought it a long time ago and sold it, then I bought the deli and sold it. Now here I am again," she said.
"I'm so excited to be in Kingman; I get a chance to give back to my community again, so I'm really excited about that."
While her old building has since been reoccupied by another sandwich shop, Manley was able to partner with former Fastrax owner Donovan Schmidt to purchase the defunct Chef's Kitchen building just up the street at 509 E. Beale.
The new building, which she plans to reopen under the name "Dora's Beale Street Deli and Catering," will allow her to expand her old menu in ways the old location never could, since the former tenants left behind nearly all their high-quality kitchen ovens and equipment.
"There's so much I can do with this I couldn't do with the Kingman Deli," she said.
"The Kingman Deli was a cold kitchen, there was no cooking really. Now I can do panini sandwiches where I didn't have a panini grill before. I also have a char-broiler, so I can do some steaks."
In fact, with a whole dining room in the back, Manley said she hopes to launch a dinner night every Saturday where her chef will offer a five-course meal, with choice of appetizer, soup or salad, main course and dessert, all for under $30.
"Then we'll offer a flight of wines that are paired to go with that particular meal, or they'll choose off a wine list if they want to do it that way," she said.
"We're not going to have a specific type, it'll change each week. We might do something Italian one week and so on, but we're always going to try to offer a chicken, beef and fish entree."
On other days of the week, Manley said she intends to rent the back room out for local groups to hold their meetings. She even plans to provide a television screen to accommodate PowerPoint presentations.
"I don't have all the fine details worked out yet, but I know what we want to accomplish," she said.
"We're doing a little change of colors on the inside and adding some equipment - I'm putting in an espresso machine so we'll have the coffees, and I'm still trying to finalize the menu."
The menu will, of course, include all the old deli sandwich favorites, though Manley said they're not likely to keep the same names, and may instead switch to a number-based ordering system.
"All the sandwiches everybody loves, they're all going to be there," she said. "We want to serve a nice, quality lunch at an affordable price."
Dora's Beale Street Deli and Catering is set to open in early July, but Manley is already accepting catering orders.
For more information or to place an order, call (928) 279-4560.