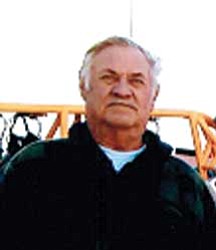 Originally Published: April 16, 2010 1:12 p.m.
KINGMAN - Mohave County Sheriff's Office is asking for assistance in locating Eldon Ray Corter, 66, of Golden Valley.
Corter left his residence in the 3600 block of Hassayampa Road at approximately 2 p.m. Tuesday to go to Kingman and has not returned. He was last seen at approximately 3 p.m. in the area of Eastern Avenue and Hualapai Mountain Road while driving his 2003 silver 1-ton dually GMC pickup truck, Oregon license plate 445EAJ, with a white camper shell. There are Marine stickers on the front and side windows of the truck.
Corter is described a white male, 6 foot, 260 pounds, with green eyes and gray/brown hair. He does have medical issues and does not have any medications with him.
Anyone with information on the whereabouts of Corter is asked to contact the Mohave County Sheriff's Office at (800) 522-4312 or (928) 753-0753.