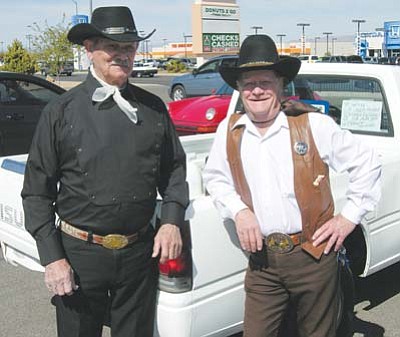 Originally Published: April 18, 2010 6:01 a.m.
KINGMAN - There are only two weeks left in the job fair series being held each Wednesday at the Cerbat Lanes bowling alley. But while there are still jobs available for out-of-work Kingmanites, the most unusual positions may have already been filled.
That's because this past week, professional stuntman and gunfight re-enactor Cheyenne Cooper managed to rope himself more than a dozen locals to join his posse.
Cooper, whose real name is Bob Brewster, is hoping to launch his newest iteration of the Kingman Gunslingers, an Old West gunfighting troupe with more than 80 separate scripts, many based on real-life persons and events.
"I've been doing this almost 32 years," Cooper said "I've worked at three different film studios in California as an actor and stuntman."
Now, however, Cooper and his safety officer - Hondo Johnson - are ready to pass their knowledge of firearms and stunt techniques on to a new generation they hope will be able to use their skills to launch acting or stunt careers of their own.
"I've been trying to get groups together to show what the Old West was really like," Cooper said. "Hondo's been with me for five years now, and we're serious about what we do."
Cooper said a lot of training goes into a proper gunfight re-enactment. As might be expected, a large part of the training goes into how to properly react to a gunshot - after all, real gunfire often isn't at all like it is in the movies, and a convincing performance can mean the difference between an audience that's bemused and one that's truly engaged.
"You don't want to die too fast or too slow, depending on what you get shot with," Cooper said. "I've done shows where I get set on fire - you see something like that in a movie and that's one thing, but if you see it live, that'll really freak you out!"
But Cooper noted that a convincing performance can't come at the price of safety. He said that while any good stuntman gets hurt at least once in his career, nobody should ever have to pay with their life, hence Johnson's role in ensuring all actors are properly trained in firearm safety and know where to aim, as well as where not to.
"If a blank will blow a hole in a tin can, who knows what it'll do to your skin," Cooper said.
Cooper and Johnson said they're hoping to begin interviews with their applicants to pare the group down to 10 members, five men and five women. After that they will begin the roughly eight weeks of 3-hour-a-day rehearsals it takes for the actors to learn their lines and receive proper training.
Cooper said the work tends to be sporadic, and is almost necessarily part time, but it's still not a bad way to make extra money, especially at $50 per person for a two-hour show. His ultimate hope, however, is to locate a local venue where his newfound group can put on shows six or seven days a week.
"In the entertainment business, nothing happens overnight," he said. "I just want people to see a professional group of gunfighters and stuntpeople."
In the meantime, Cooper and the Kingman Gunslingers are available by appointment. They're also looking for sponsors to help purchase ammunition and authentic period clothing.
For more information or to schedule a performance, call (928) 303-6375.