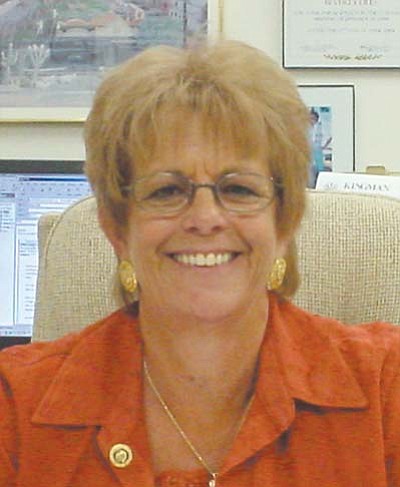 Originally Published: April 18, 2010 6:01 a.m.
KINGMAN - After nearly two decades holding the office, Beverly Liles will step down as president and CEO of the Kingman Area Chamber of Commerce at the end of June.
In a meeting late last month, the Chamber's governing board voted unanimously against renewing Liles' contract. Liles has held the position at the Chamber since 1992.
In describing the decision, Chamber Board President Brian Harris of Don's Office Supplies said recent shifts in the business and political landscape of Kingman prompted the board to move in a new direction with a new Chamber president.
"It was just the changes that have happened over the last few years, the fact that we weren't growing, and there was some discontent among the members," Harris said. "Just the normal things that lead to a decision like that. Nothing concrete that I can just pinpoint, it was just a myriad of things we felt we needed new leadership."
Harris added that, despite the unanimous vote, the decision came as a hard one for the board, with members recognizing the many contributions Liles has made in her 18-year tenure. All the same, however, with new development key to the city's economic recovery, he stressed the need for a bold, new perspective on how to bring in new businesses.
"There's a lot of economic development that's being considered and a kind of lack of anyone really taking the ball on that," he said. "We feel this is going to be a challenge for whoever assumes that position."
The board is now working with western and national Chamber executives to figure out exactly what qualities it needs to advertise in the search for Liles' replacement. Harris said the goal is to have a replacement ready to assume the office after Liles steps down July 1, but he added that the quality of the applicant was the board's top priority.
"We're not just going to fill the position to have somebody there the first of July," he said. "If we don't find the right person, we'll keep looking."
Liles said she has no regrets over her 18-year tenure at the Chamber, except that it has to end.
"I met a lot of people, and I think I did a good job," she said. "I'll be sorry to leave here, although it's time."
A resident of Kingman since 1968, Liles was first appointed Chamber president as an interim placeholder before earning the position in her own right.
"I was on the board, getting ready to close up my business because the economy had gotten soft," she said. "At that time, they were looking for an interim and they asked me if I would serve until they could find someone. But I ended up putting my application in and I was chosen."
Under Liles' leadership, Chamber membership ballooned from 230 in 1992 to more than 800 at the height of the boom in the mid-2000s. Today, the Chamber is still well above where it started, with about 600 dues-paying members. But Liles was reluctant to take credit for bringing any one business to town, noting that the process is a collective effort between businesses, the chamber, the city and the county.
"You can't do anything like that by yourself. It's a team effort," she said. "A lot of it is just talking to these people and giving them what they need to make the best possible decision as far as moving companies or relocating as a family. It's a matter of making sure every call and every person that comes into our office has all the information to make their move over here smooth."
But there were also numerous accomplishments that can be directly attributed to Liles, such as her establishment of a reserve fund for the Chamber in order to give it more financial stability during downturns like the current one.
"We didn't have a reserve fund before, and if we had fallen on hard times, we wouldn't have had anything," she said.
Liles also claims credit for helping create workforce development bonds with local high schools and Mohave Community College. She also helped to found the County Chamber Coalition with Bullhead City and Lake Havasu City and oversaw the creation of numerous committees including ones for workforce development and business and government.
Asked the secret to her longevity as president and CEO, Liles attributed it to her flexibility in dealing with the shifting agendas of successive board presidents.
"For someone to be in this position, every year you have a different group of bosses. Every year you have a different chairman of the board, and that's the key person you answer to," she said. "It's difficult, because just about the time you get used to one agenda and what they want to see, then it's time to move on to the next one. I've learned to roll with this and know that the next year, I'm going to be answering to another chairman of the board."
In a way, Liles' displacement is just one more symptom of the massive wave of anti-incumbent sentiment currently sweeping the nation at seemingly every level of government. But for her part, Liles was unwilling to dwell on the factors behind the board's decision, preferring instead to focus on the road ahead.
"I know I'm moving. I have family outside of Sacramento, and I'm going to be leaving to go up there," she said. "As far as employment, I'm not sure yet. I'm not sure what I'm going to be looking for.
"I know that when I pack up and drive out of town, it's not going to be an easy trip," she added. "But you don't live somewhere for over half of your life and walk out with no sadness."