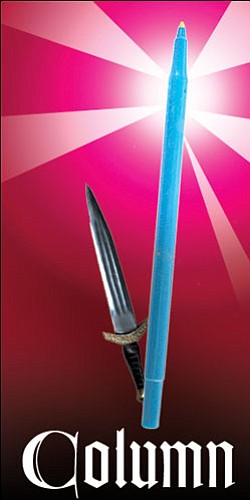 Originally Published: April 21, 2010 6:01 a.m.
I read Ed French's (CEO of MedCath, Inc.) column in the April 8 edition of the Daily Miner about the possible sale of Hualapai Mountain Medical Center with some interest. Because of some of his inferences about Kingman Regional Medical Center and how it conducts business since the announcement and opening of HMMC, I felt a need to share some information about our hospital.
Ownership
KRMC is the only hospital in the county that is owned and managed by its community. As a private, non-profit hospital, all monies earned are invested back into improving our local healthcare services. Decisions are made by local leaders centered on doing what is best for patients and the community, without concern for "shareholder value." In my 25 years in this industry, I have found that the patient's best interests are usually better served by "Main Street" than by "Wall Street."
Investment
During the past 10 years, KRMC has invested more than $150 million in equipment and facilities. It was one of the first hospitals in the state to offer technology such as digital mammography and 3T MRI. Our board has never been hesitant to provide the appropriate equipment to serve the Kingman area. In 2007, KRMC received the Governor's Arizona Innovation Award in recognition for its investment in technology and services not normally seen in a rural community.
New jobs/new physicians
Very few people realize that as KRMC has grown, it has provided approximately 800 new jobs to the community over the past decade - many of them professional and technical positions. I'm not sure there has been another local employer that has had that kind of economic impact. In addition, over the past couple of years, we have helped bring to the community dozens of physicians in many specialties. Not only does this affect the Kingman economy, it also provides better access to physician services.
We have focused on our work culture for many years and those efforts have paid off, as evidenced by employee satisfaction scores in the top 10 percent of hospitals nationwide. Many of the new physicians and medical providers that have recently joined us have shared that a significant attraction to them was our culture and values. It has also led to working on projects with the internationally renowned Mayo Clinic, an organization with similar beliefs and values.
Patient experience
We treat more than 40,000 people each year in our ER - by far the busiest ER in the county - and our average door-to-triage time for five straight quarters is only 8 minutes. During 2009, approximately 86 percent of patients scored their overall ER experience as excellent or very good, with only 2 percent rating their experience as poor. So far in 2010, that trend continues. During the first three months of this year, our "Overall Care" scores were among the nation's top 12 percent and "Overall Time Spent in the ER" scores ranked in the top 6 percent. Scores for physician and nursing care were similar.
KRMC's ER is the only one in Mohave County that has received designation as both a Cardiac Arrest Center and Trauma Center by the Arizona Department of Health Services. We have improved care to stroke victims by partnering with the Mayo Clinic in the Stroke Telemedicine for Arizona Rural Residents program.
We also survey our patients who were admitted into the hospital. According to the public governmental survey, approximately two thirds of our patients rated their care a 9 or 10 on a scale of 10, and well over 90 percent rated their care a 7 or higher. Another national private survey, which ranks us in relation to hospitals around the country, indicates that KRMC is typically ranked in the top one-third to one-quarter of hospitals nationwide. Although many hospitals would be satisfied with that kind of performance, I am challenging my staff to do even better.
Competition & choice
KRMC did not suddenly start investing in its equipment and people with the announcement and opening of HHMC as Mr. French alludes. Anyone even remotely familiar with Kingman and our hospital knows that is not true. Our investment and subsequent improvements started many years ago and is ongoing. We have had local competition in the outpatient arena for many years and, although less convenient, people have had the ability to seek inpatient care in other hospitals in the region. HMMC is one more local choice that people can go to for their care. To the degree they can meet an unmet need, kudos to them. We are gratified that a large number of people continue to use KRMC as their healthcare provider. Will Kingman be able to adequately support an additional hospital? I honestly don't know. But, no matter what happens with the potential sale of HMMC, KRMC will continue to focus on doing what is necessary to maintain its position as the hospital of choice.