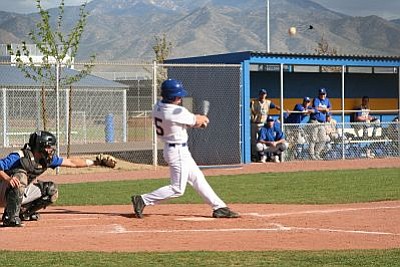 Originally Published: April 22, 2010 6:01 a.m.
KINGMAN - The good news to start the week for the Kingman High baseball team was that the Bulldogs put an end to their 11-game losing streak with an 11-1 run-rule win over Bullhead City Mohave Monday at KHS.
The bad news is that KHS (2-13, 0-11 NW) continues to look for its first Northwest Region win after Phoenix O'Connor run-ruled the Bulldogs 11-0 Tuesday at KHS.
After O'Connor (9-6, 7-3 NW) scored two in the first off of KHS starter Tyler Moline, the Bulldogs threatened in their half when G. Herrera led off with a single and D.J. Loyd walked. Cameron Burgess singled to right with two outs, but Herrera was gunned down at the plate trying to score from second to end the threat.
The Bulldogs had runners on base in five of the six innings but could not get a run across.
"Every time we got an opportunity, we had someone up who is struggling," KHS coach Rick Olivas said. "But we're getting opportunities, which we weren't early on in the season."
David Ashford went 2-for-2 for the Bulldogs, and Dylan Smith doubled.
KHS hung tough with O'Connor through three innings, trailing just 2-0. But the wheels fell off after Moline retired the first two Eagles' hitters. O'Connor put together four hits and KHS added in two errors in the two-out rally, and the Eagles led, 5-0.
KHS hits the road when they take on Mountain Ridge (9-5, 7-3 NW) at 3:45 p.m. today in Glendale.
More like this story