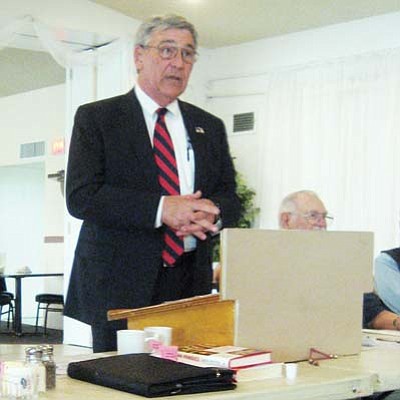 Originally Published: April 22, 2010 6 a.m.
KINGMAN - When asked if he would move to have Arizona secede from the union if the federal government continued to step on states' rights, Arizona Governor candidate Buz Mills said, "I'll do whatever you folks want to do. We have to think this through.
"However, I don't see this as a bad idea."
"The federal government is trying to usurp our authority, your authority, but they won't protect us from invasion (from illegal immigrants)," he told the Republican Men's Club Monday in Kingman.
"I'll stand between you and the feds as much as you want me and the law will let me."
The state also doesn't need an increase in its sales tax to balance the budget or protect funding for education, health services or public safety, he said.
A 1-cent sales tax hike if approved by voters on May 18 would be equal to an 18 percent increase in the state's sales taxes, he said.
"Instituting a tax increase during a recession is like standing in a bucket and trying to pick it up by the handle," Mills said. "It's going to cost us jobs."
A number of businesses have left California and moved to Texas because they knew that Texas government wasn't going to balance its budget on the backs of businesses, he said. Arizona had to sell its state buildings and lease them back in order to pay down some of the state deficit, Mills said.
"Who wants to come to a state that had to sell its capitol?" he asked.
When asked how he would balance the state budget and protect funding for education without a tax increase, Mills said, "This isn't about the children. It's about their (government officials') raises."
Elected officials always trot out threats about funding cuts to education and public safety during an election year, he said. "They're trying to get their hand in your pocket," he said.
State public schools have a nearly one-to-one ratio of administrative personnel to teachers, Mills said. It costs nearly $10,000 to educate one student in Arizona's public schools. If there are 32 students in a classroom and a teacher makes about $50,000 in salary, where does the rest of that money go? he asked.
He wondered why the state can't contract out some of the services, such as janitorial and food services or busing. If the state could out-source some of the work for schools, why couldn't it out-source other services, such as maintenance of the state parks? he asked. There are other communities out there, such as Sweetwater, Ga., who do so and are actually making a profit, he said.
The state needs to cut government salaries back to 2007 levels, he said. As a Prescott business owner, Mills said he has had to cut his staff by nearly 40 percent because of the economy. The state also needs a taxpayer bill of rights, Mills said, a law that would handcuff the governor and the Legislature and would only allow the state budget to grow at the same rate as inflation and the population rate, he said.
"We just can't keep going down this road," Mills said. "We can't afford it. Someone needs to say, 'No.'"
The state also needs good leadership, he said. "There's been no leadership in state government for years and years. I see mountains and mountains of debt and no leadership."
His opponents for the governor's office are part of the problem, he said. A number of them are former government or elected officials.
"We have to take back the reigns of government and show them the way to fiscal responsibility," Mills said.