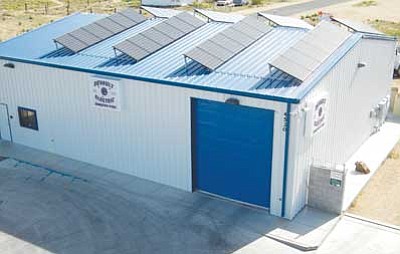 Originally Published: April 26, 2010 6:01 a.m.
KINGMAN - If reducing your carbon footprint isn't a big enough incentive to "go green," consider this: Last year, Ambient Edge's electric bill for March was $485.
Since then, the heating and cooling company partnered with DeVault Electric, which installed solar panels and high-efficiency lighting for the business in December. With the solar panels, lighting and Ambient Edge's own high-efficiency air-conditioning system, the company's electric bill for March was a scant $24 - and that includes UniSource Electric's $12 minimum metering charge.
And because of federal grants and utility rebates, the solar system installed by DeVault ended up paying for itself, said Ambient Edge owner Steve Lewis.
"It just makes sense, and it's the right thing to do," Lewis said.
Lewis estimates that outfitting his business with solar panels and high-efficiency lighting, along with the HVAC system, will save the business an estimated $60,000 over the next 10 years.
The same rebates and tax credits that helped Ambient Edge save thousands of dollars are also available to homeowners, according to Ken and Tim DeVault, owners of DeVault Electric.
They began installing solar systems around 2 -1/2 years ago. Last year, they installed solar systems in around a dozen homes and a handful of commercial operations, including Ambient Edge.
The systems can cost homeowners anywhere from $2,000-10,000 after tax credits and rebates but can add a value of more than $30,000 to a home. And because the system falls into the renewable energy category, the added value cannot be assessed against the homeowner come tax time, Ken DeVault said.
"Some do it to be green, but really, it's a cost-effective and lucrative investment," he said.
Business sense
The DeVaults decided to put their money where their mouth is and install a solar system at their building on Bank Street at Northern Avenue earlier this month for all of the same reasons they give their customers.
"We're businessmen," said Tim DeVault. "We wouldn't do this if it didn't make good business sense."
The DeVault's system is worth about $52,000 but will end up only costing $14,000 out-of-pocket. The DeVaults say the savings provided by the system will cover their expenses in about 3-1/2 years.
The DeVaults will even cover the cost of the rebate for customers to keep their upfront costs to a minimum. The tax credits are applied to the homeowner's annual return.
The UniSource credit is expected to run through 2011, and the state and federal credits through at least the end of this year. The systems require minimum maintenance and require only an occasional shower of water to clean off dust and dirt.
"They're so maintenance-free, once it's up there, you almost forget about it," Ken DeVault said.
Even those who don't choose to go solar can offset their energy costs by making simple changes. The DeVaults say they were able to reduce their utility bill by 30 percent by doing things like unplugging power strips when not in use.
"We call them 'phantom loads,'" Ken DeVault said. "A little coffee maker with its digital clock can draw 5 watts of energy. Add that up over a year, and it draws as much power as a washing machine."
Changes at KHS
It's not just homes and businesses making the switch. DeVault installed energy efficient lighting at all of the Kingman Unified School district's buildings. The switch resulted in a 600,000 kilowatt-hour reduction and a $100,000 annual savings in utility costs. Switching out the old "Exit" signs to LED signage alone saved the district $4,608.
More than 2,438 lights were switched out at Kingman High, which saved $54,000. And the new lights are much more efficient, meaning teachers are actually turning on fewer lights because the ones that are on are brighter.
KUSD was able to secure $23,000 in rebates for the projects from UniSource's Commercial Energy Solutions program, which is available to homeowners as well.
"It really makes a lot of sense," said Tim DeVault. "You're receiving money from your utility provider to lower your monthly and annual bill."
Going green also pays off for the environment, he added. The 450 tons of carbon emissions saved by KUSD would have required around four square miles of the Coconino National Forest, or roughly 14,000 mature pine trees.
"We truly believe in this program because we have seen first-hand the benefits," Tim DeVault said.
To contact DeVault for more information, call (928) 757-7767.