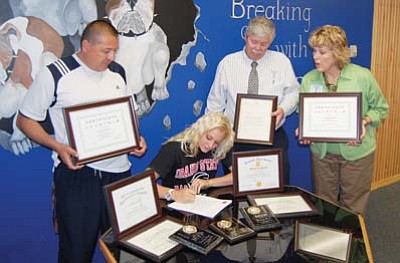 Originally Published: April 28, 2010 6:01 a.m.
KINGMAN - Senior Lindsey Reed parlayed her two-time Northwest Region Player of the Year awards and being named to Arizona's 5A First Team into a full scholarship with the Division I Idaho State Bengals women's basketball team of the Big Sky Conference.
"I got along with the coach and the team very well," Reed said. "It's the big reason I want to go there. They're a good team with a chance to win the Big Sky Conference."
ISU went 15-15 last year, including 10-6 in the Big Sky, where the Bengals tied for second in the regular season. ISU was upset in the conference tournament by Portland State in the quarterfinals, 75-61.
At KHS, Reed was a point guard who scored. She averaged 21 points per game for the Bulldogs this season, and Idaho State wants to take advantage of that aspect of Reed's game.
"I picture Lindsey as a scorer," ISU coach Seton Sobolewski said. "She has so many different weapons. She can shoot from the perimeter, 3s, and can go to the basket. She promotes good chemistry among the players on the floor."
With that in mind, Sobolewski sees Reed playing the two-guard or at the three.
Reed's ball-handling experience has the coach dreaming of some great fast-break opportunities for the Bengals.
"I love guards who have point-guard experience," he said. "We already have two guards with point-guard experience, and if I can start three guards with point-guard-like ball-handling ability and get the ball in one of those three's hands by turnover or long rebound, we'll be able to start the break faster."
KHS coach Danny Gonzalez is happy that Reed found a coach who will care about her.
"Coach Sobo called me to ask how Lindsey felt after her visit there," Gonzalez said. "That tells you he's a coach who cares. He'll take care of the girls in his program, and that's something I wanted because I did that with her for four years."
The experience Reed gained while playing for Gonzalez throughout her KHS career is something she'll treasure and take with her to Pocatello, Idaho.
"He made a lot of this happen," Reed said. "He'll always be my favorite coach in my book."
Because of all the adjustments a freshman in college has to make on and off the basketball court, Sobolewski said its tough for a freshman to crack the starting lineup at the next level.
"Lindsey has the talent to start," he said. "Whether or not she starts is up to her and how quickly she adjusts.
"Surrounding her with D-I caliber players will make things easier for her. She won't have to do everything, and she'll have those who can finish plays."