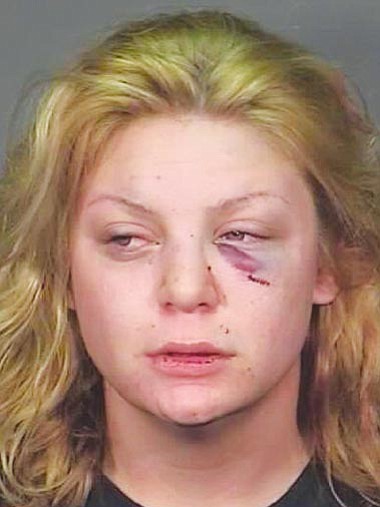 Originally Published: August 2, 2010 6 a.m.
KINGMAN - An all-night argument between a couple led to a mother being jailed after she allegedly injured her baby while trying to attack her boyfriend.
Danielle Marie Dykins, 23, of Kingman is charged with felony aggravated assault and child abuse, as well as misdemeanor assault per domestic violence and criminal damage per domestic violence, in connection with an incident that took place in the 300 block of S. Magma Road in Golden Valley Tuesday morning.
Mohave County Sheriff's spokeswoman Trish Carter said Dykins and her 32-year-old boyfriend had been arguing off and on throughout the night when the dispute escalated to violence around 6 a.m.
Dykins was reportedly chasing her boyfriend down the hall while holding her 7-month-old baby when she slammed the baby's head into the wall.
"She was so involved in this domestic violence she may not have even been aware she banged the baby's head on the wall," Carter said.
The act was witnessed by the boyfriend's sister, who also lives in the home. The baby's injuries were so severe that after the domestic violence incident was reported, the baby was taken to Kingman Regional Medical Center and was later transported to Phoenix Children's Hospital with internal bleeding in her head.
The baby has since been released from the hospital.
Authorities found out about the incident after Dykins and the boyfriend's sister got a flat tire at 5th Street and Andy Devine Avenue while driving to Dykins' mother's home immediately following the argument. Dykins reported the incident to deputies, but it was later determined that she had acted as the aggressor. Red marks were also observed about 2 inches behind the baby's ear.
Dykins is also charged with using a pocketknife to stab her boyfriend in his hand and using the same knife to puncture the tires on a vehicle that belonged to the boyfriend's father.
Dykins said she got the injuries as pictured in her mug shot from her boyfriend slamming her face into the kitchen counter, but several witnesses denied that version of events and said the injuries were self-inflicted.
Her bond is set at $10,000.