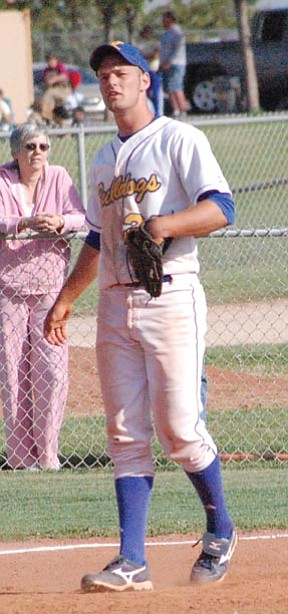 Originally Published: August 5, 2010 6 a.m.
KINGMAN - When Tyler Huffer, a 2009 Kingman High graduate, landed a baseball scholarship with Arizona Western College in Yuma last year, he was an under-the-radar guy who the Matadors felt fortunate to get.
Now that Huffer has a season with the Matadors under his belt, he's not flying under the radar any longer.
"Tyler ended up being a vital cog to our pitching staff," AWC coach John Stratton said. "Carrying into 2011, I feel I have two co-aces. We have as good a 1-2 punch in the state as anyone."
Huffer finished the year by being named all-conference in the Arizona Community College Athletic Conference. He was eighth in ERA in the ACCAC at 1.96. He went 3-0 and allowed 14 earned runs and 45 hits in 64-1/3 innings pitched. He was second on the team with 67 strikeouts.
In Huffer's final appearance of the season, he went nine innings in a no-decision against Central Arizona, a team that went on to play at regionals.
"I'm pleased with the way it ended," Huffer said. "I finally got my opportunity and answered the challenge."
It's another test for Huffer next season when it comes time to prove AWC has the best 1-2 punch. But the right-hander is up for it.
"I'd agree with coach," he said. "We definitely have the best No. 1 in Tim Keller, and hopefully, I can follow him up with good performances."
Stratton said that Huffer's all-conference selection was more about the opposing coaches' points of view than it was about politics.
"It was about the respect from the coaches he faced in the second half," the coach said. "When Tyler helped us, he was special. We've already heard from four-year coaches about our top two pitchers."
Huffer began the season coming out of the bullpen for the Matadors, and he also played third base. The former Bulldog struggled in the bullpen role, and Stratton put him in the rotation.
"When he came out of the pen, it just wasn't enough time for him to get going," the coach said. "As a starter, he could really settle down."
Stratton's plan for Huffer is get better command of his pitches. He said Huffer's fastball and slider - a D-1 or even pro-level pitch - have lots of movement and get him in hot water at times.
"Tyler just needs enough command to not get in trouble," Stratton said. "They move so much he loses a little control."
The first thing Huffer has to do as he heads back to school is recover from surgery he had on his left wrist July 13. He said he either hurt it batting or when he dove headfirst into a base.
"I get my cast off Wednesday and will hopefully have just a month of rehab," he said. "Hopefully, I can get throwing and get back in shape starting in September."
He's out from underneath the radar and expects to improve next season.
"I just want to do better than I did last season," Huffer said. "I just want to keep getting better and give myself the opportunities to get to the next level."