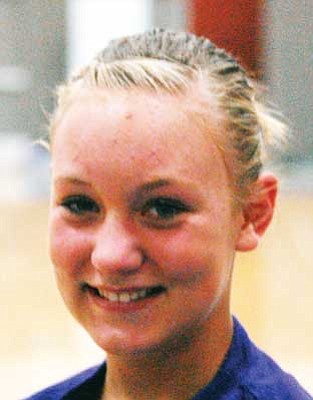 Originally Published: August 6, 2010 6:01 a.m.
KINGMAN - Cortney McCans of White Cliffs Middle School may be a little difficult to pick out in a crowd, but Kingman Middle's Rod Gilleo can be easily spotted. The pair of athletes is looking forward to a bright future at Kingman High as they begin their high school careers.
Mice are known to cause structural damage, and the coaches at Kingman High hope that Cortney McCans - who is as quiet as a mouse - causes problems for the Bulldogs' opponents.
McCans enters KHS after playing volleyball, basketball and softball for White Cliffs Middle School. The incoming freshman said she plans on playing the first two for KHS and tennis instead of softball.
"Cortney is very quiet, but she started to come out her cage from sixth grade and evolved a lot athletically," WCMS softball coach Tami Howland said. "She's timid and shy, but she showed that she was a part of the team and deserved to be out there."
McCans has been at the KHS Volleyball Camp this week getting ready for the upcoming season in her favorite sport.
"My mom has played it forever, and it's a family sport," the freshman said. "We have a volleyball court in the backyard and it's a lot of fun."
Tennis has McCans' interest, too. She's played tennis casually in the past, but spent time at two camps this summer. KHS girls coach David Laughter held one of those camps, and he likes McCans' prospects.
"Cortney has potential," the coach said. "She's got the strokes."
McCans has the recommendation of sophomore Natalie Casson, who played No. 1 singles and doubles for the Bulldogs last season.
"Natalie told me she's a good athlete," Laughter said. "Cortney's a novice but picked up the strokes faster than most girls I've taught."
When McCans' four years are over, she hopes it is volleyball that takes her to the next step in life.
"I want to go to NAU on a volleyball scholarship," she said.
Gilleo's a big presence
Rod Gilleo stands 6 feet 5 inches tall and weighs 210 pounds. He's also just 14 years old.
Gilleo played football, basketball and track for the Bobcats, and he said he expects to do the same for the Bulldogs. He leans toward basketball as his favorite.
"I like basketball because it's fun," Gilleo said. "I've been playing since I was a little kid, and I'm good at it. I love blocking people's shots."
Gilleo is definitely an inside presence on the basketball court. When he played for KMS, he not only got his share of blocked shots, he forced many off-balanced shots as shooters tried to avoid him.
Gilleo has been working with the KHS football team recently, and coach Rob York is licking his chops at Gilleo's size.
"He's very athletic with good feet and looks to be an offensive lineman type of kid," the coach said. "We're going to find out if he can catch, and if so, we'll look at him as a tight end."
Rod's brother Trey, a redshirt sophomore at NAU, said Rod has better footwork than he did when he was Rod's age. Despite that, York expects to see a little clumsiness expected from a 14-year-old with Gilleo's size.
"He's got to get used to his body," York said. "He hasn't yet adjusted to it. He's a little awkward, but from what I've seen of him, he busts his butt and works hard."
Gilleo would like to get a scholarship to play at the next level like his brother, but in his favorite sport.
"I'd love to get a scholarship for college basketball," he said. "And I'd like to make all-state my senior year."