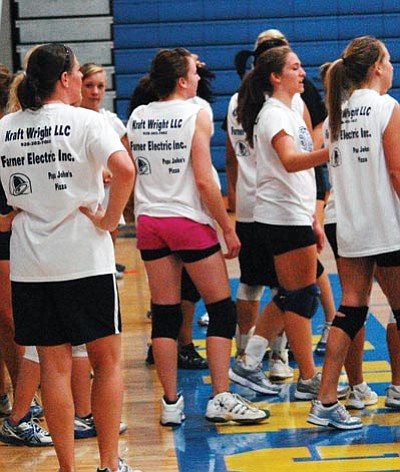 Originally Published: August 11, 2010 6 a.m.
KINGMAN - The number of players in an athletic program has a lot to do with its success, and the Kingman High volleyball team is presently going through a growth spurt. After more than 60 players took part in the KHS Volleyball Camp that ended Aug. 6, and included sixth-eighth graders, the Bulldogs had 43 players when tryouts began Aug. 9.
That number didn't include players who were there but hadn't turned in their clearance cards.
"We were pleasantly surprised," KHS coach Traci Rosenbach said. "We should have at least 50 trying out."
The largest spurt came from the freshmen. Last year, KHS had only 10 freshmen in the program. This year, Rosenbach said there were 20 at Monday's tryout, and she expects more when they turn in their clearance cards.
"That's a huge turnout from them," the coach said. "We've got some good freshmen athletes, and we'll keep as many as we can. We've only got seven seniors, so we're a young program and need to build."
During the weeklong camp, Rosenbach saw many of the players take big strides from the beginning of the week to the end. The coach said she was really impressed with how many learned to dive and roll correctly.
"It's really important that they go to camp," she said. "We purposely hold it the week before tryouts. The girls that didn't go are already a little behind. We have juniors who didn't do anything volleyball-wise all summer, and they've already noticed that some kids have passed them by."
The energy level that the girls showed during camp has Rosenbach excited about the program. Instead of having athletes who like to play volleyball, Rosenbach senses that the program is getting instilled with volleyball players.
"I like that they wanted to be there," the coach said. "You could tell that some of them really love volleyball. It was neat to see them try so hard and give 100 percent."
Rosenbach said she would announce the rosters after Friday's practice.
During the course of tryouts and beyond, the coach said that communication on the court would continue to be the focus.
"Volleyball is one of the sports where if you don't communicate, you don't have a team," she said.
"As a program, we're striving for good communication."
Once the pressure of tryouts is over, the Bulldogs will gear up for the season, which starts with a scrimmage Aug. 26 against Flagstaff Coconino at KHS.