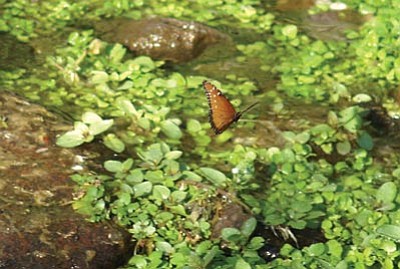 Originally Published: August 15, 2010 6:01 a.m.
KINGMAN - Time is running out to register that beautiful rose you grew or grandma's secret recipe for chili in this year's Mohave County Fair.
The County Fair Association is reminding all residents that the deadline to submit an entry form for all of its open exhibits is Friday, Aug. 20. This year's fair is Sept. 16 to 19.
Open exhibit categories include canned goods; machine-sewn articles; needlework; baked goods; fresh fruits and vegetables; plants; flowers; arts and crafts; photography; and Native American arts and crafts.
The number of entries in this year's fair is down, and anyone and everyone is encouraged to enter their prized recipe, artwork, plants or crafts in this year's fair, said County Fair Association member Gerald Olsen. "A lot of people don't realize that it's free to enter."
Entry forms and the rules for entries can be found in the Fair Book, which can be picked up at the County Fair Association office at the fairgrounds, 2600 Fairgrounds Blvd.; local feed stores; and at the chambers of commerce and libraries in Kingman, Bullhead City and Lake Havasu City. The book and entry forms can also be downloaded from the Fair Association website, www.mcfafairgrounds.org.
The entry forms can be mailed or hand delivered to the Fair Association office or faxed to (928) 753-8383.
In an effort to help out those residents who live a distance from the fairgrounds, the Fair Association is offering its Community Outreach Program. Program representatives in Bullhead City, Chloride, Peach Springs, Lake Havasu City, Oatman, Dolan Springs, Meadview and Topock will pick up items for certain exhibits and deliver them to the fairgrounds for exhibitors. The types of exhibits, dates, times and locations of the exhibit pickups are available in the Fair Book.
Deadlines for entry forms for other fair exhibits such as the open livestock and horse and dog shows are also coming up. Open livestock entry forms are due by 5 p.m. Aug. 27. Dog show entry forms are due by 5 p.m. Sept. 1. Horse and gymkhana entry forms are due by 5 p.m. on Sept. 13.
**Fair Community Outreach**
Accepted exhibits: Canning and preserving; Machine sewn articles; Needlework; Arts and crafts; Collections; Paintings, drawings and prints; Photography; Sculpture, ceramics, stained glass, jewelry.
Outreach pickup times, dates and locations
Bullhead City: Contact: Bonnie Nickles (928) 758-0713; Location: Supervisor Tom Sockwell's Office, 1130 Hancock Road; Time and Date: 2:30 p.m. Sept. 2
Chloride: Contact: Donna Myers (928) 565-4888; Location: Mine Shaft Market, 4940 W. Tennessee Ave.; Time and Date: noon Sept. 3.
Peach Springs: Contact: Jeorgine Bender (928) 769-2613; Location: Peach Springs Elementary School; Time and Date: 10 a.m. to 3 p.m. Sept. 3.
Lake Havasu City: Contact: Germaine Seitz (928) 453-7499; Location: 3750 Squaw Dr. Time and Date: no later than noon, Sept. 2.
Oatman: Contact: Jackie Rowland (928) 768-7400; Location: Fast Fanny, 152 Main St.; Time and Date: 1:30 p.m. Sept. 2.
Dolan Springs and Meadview: Contact: Evelyn Tobin (928) 767-3148; Location: Dolan Springs Community Council, PO Box 201 Community Council; Time and Date: 11 a.m. Sept. 3.
Topock: Roberta Anderson (928) 453-7316 or (928) 768-3344; Location: Topock School, PO Box 370; Time and Date: 1 p.m. Sept. 2.