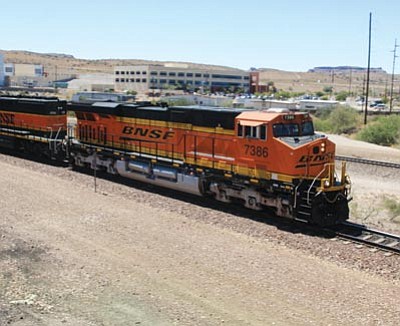 Originally Published: August 16, 2010 6:01 a.m.
KINGMAN - Fireworks are all but guaranteed at tonight's Kingman City Council meeting - after all, they're right there on the agenda, which is itself one of the largest Council has tackled in months.
In response to the state Legislature revising the law to allow for the sale and use of some fireworks, Council will consider an ordinance that, if approved, would effectively maintain the city's existing ban on fireworks. The ban would otherwise end when the new state statutes take effect Dec. 1.
But fireworks may also erupt over Council's continuation of a rezone hearing from Aug. 2 concerning a property at the southwest corner of Van Buren Street and Karen Avenue, just north of Hualapai Mountain Road. The property's owners, Jerry and Diana Fulps, both residents of Washington state, are seeking to rezone the property from residential to C-2: Community Commercial.
Both the Planning and Zoning Commission and city planning staff have recommended denial of the rezone on the basis that there is no pressing need for additional commercial along the Hualapai Mountain Road business corridor. In addition, the Fulpses have already rezoned a nearby property from residential to commercial but have done nothing with it. They also have provided no distinct plan or development timeline for the subject property.
At the Aug. 2 Council meeting, councilmembers initially failed to get a majority vote in favor of denying the rezone.
Instead, Council voted 6-1 to table the item to today's meeting and reconsider a rezone to C-1 instead of C-2.
Council will also consider initiating a pair of text amendments to the city zoning ordinance. The first would aim to allow BMX racing tracks in the Recreational Open Space (O) zoning district, while the second would reduce the minimum front-side yard setback for corner lots in the R-1-8 zoning district from 15 to 10 feet.
Yet another agenda item would look at possible installation of sidewalks and a recreation area for the Fripps Ranch subdivision. According to staff reports, one of the conditions of the subdivision's original 1998 rezoning and subsequent 2004 final plat approval was that a low-maintenance recreational area would be constructed in an existing drainage area on the property.
Since then, part of the sidewalk has been built, but it remains unfinished, and no park or other recreation area has been developed on the designated parcel. Over the years, there has been some confusion between neighborhood residents and city officials over whether a park would be built there, or some other recreational component such as a picnic shelter or playground. Parks and Recreation Director Darel Fruhwirth has previously said that, due to its low-lying terrain, the recreation parcel would be inappropriate for a park, but it could be beautified with landscape rocks and boulders.
Council will also consider a request by Vice Mayor Robin Gordon to look into the possibility of establishing a "quiet zone" along Kingman's three at-grade railroad crossings. In an earlier Miner article, Gordon described the success of a similar program in Flagstaff and expressed a desire to use city hotel tax funds to establish a zone here.
Councilmembers will revisit the issue of changing their regular meeting day and time from the current time of 6 p.m. every first and third Monday. Several on Council have proposed possibly moving meetings to Tuesdays, since several meetings a year already occur then due to Monday holidays. Some councilmembers have also expressed an interest in starting meetings earlier, at 5:30 p.m., to avoid causing unnecessary downtime for city staff.
Finally, Council will consider possibly reducing the number of commissioners on the Economic Development and Marketing Commission.
Today's meeting begins at 6 p.m. in City Hall, 310 N. Fourth St.
For full agenda details, visit www.cityofkingman.gov and click on "Agendas, Minutes and Video."
More like this story