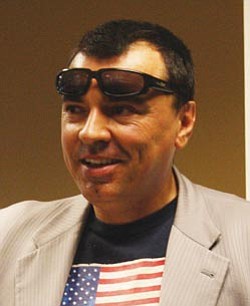 Originally Published: August 16, 2010 6 a.m.
KINGMAN - Golden Valley resident Luca Zanna filed a federal complaint against Mohave County, the three supervisors, County Manager Ron Walker and County Civil Attorney Bill Ekstrom Thursday afternoon in the U.S. District Court for Arizona in Phoenix.
The complaint stems from when Supervisor Buster Johnson stopped Zanna from passing out information on the voting record of U.S. Sen. John McCain during a town hall meeting in November. At the time, Johnson told Zanna that there was a county policy prohibiting politicking on county grounds.
Zanna claims that McCain's staff and supporters were allowed to pass out information during the meeting and that the county made up the policy. He claims that he has an e-mail between Walker and Ekstrom that proves that the policy was made up.
He accuses the county and its employees of negligence, intentional infliction of emotional distress, violating his First and 14th Amendment rights and defamation.
According to the complaint, Zanna's First Amendment rights were violated when county employees stopped him from passing out the information at the town hall meeting. He also claims that the county policy prohibiting political activity, which was approved in written form by the Board of Supervisors in March, is a violation of the First and 14th Amendments.
The 14th Amendment states that "no state shall make or enforce any law which shall abridge the privileges or immunities of citizens of the United States; nor shall any State deprive any person of life, liberty, or property, without due process of law; nor deny to any person within its jurisdiction the equal protection of the laws."
Zanna also claims that he and his wife suffered emotional distress and damage to their reputations when Supervisor Tom Sockwell and Walker wrote two derogatory letters about the Zannas and published them in local newspapers. These published letters, he claims, were libelous, malicious and filled with lies and discriminatory remarks, launching a defamation of character assault. He also claims that Sockwell made damaging comments about him in a speech during a Bullhead Republican Women's Association meeting.
He claims the remarks made by Walker and Sockwell made him a target of negative public comments. He cites as an example a visit to a local post office, where an employee asked him if, "he was the one that flew the plane into the IRS building."
"These defamatory comments to Mr. Zanna are directly attributable to the slanderous and libelous public comments by Defendant Walker and Defendant Sockwell," Zanna states in the complaint.
Zanna also claims that the actions of the county and its employees were "motivated by spite or ill will."
Zanna did not give a specific dollar amount for the damages he was seeking in the complaint, instead asking for attorneys fees, court costs and whatever damages the court sees fit to award.