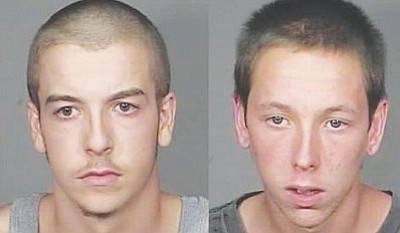 Originally Published: August 17, 2010 6 a.m.
KINGMAN - Police made two arrests last week and are looking for a third suspect in connection with several burglaries and a bomb threat earlier this summer.
Kingman residents Shawn Robert Dempsey and Shane Keith Wright Jr., both 18, were arrested Thursday and charged with three felony counts of burglary in the third degree.
The charges stem from burglaries reported on the night of May 31 at a skate shop in the 200 block of Andy Devine Avenue, a jewelry store in the 4200 block of Stockton Hill Road and a convenience store at the corner of Bank Street and Gordon Drive.
Kingman Police Lt. Rusty Cooper said the teens were connected to the crimes through evidence found at the scene, including footage taken from video surveillance systems.
Cooper said more than $15,000 of merchandise was stolen from the skate shop. Locked cases prevented anything from being taken from the jewelry store.
Police are still looking for 22-year-old Steven Michael Bean, who also allegedly participated in the burglaries and called in a bomb threat to Walmart.
The bomb threat could have been a diversion since the burglaries happened around the same night as the break-ins.
Anyone with information of Bean's whereabouts is urged to contact KPD Detectives at (928) 753-2191 or report anonymously to Mohave Silent Witness by calling (928) 753-1234.
More like this story