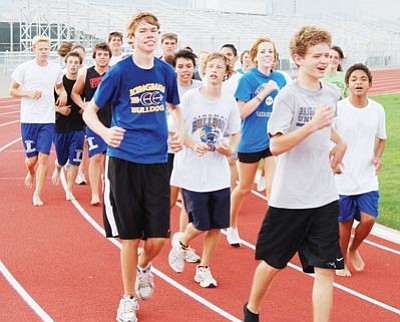 Originally Published: August 19, 2010 6:01 a.m.
KINGMAN - The more challengers a team has for its positions, the better off it should be. The Kingman High boys and girls cross country teams have more than 35 runners vying for seven slots each on varsity, and that has coach Anne Bathauer feeling pretty peachy two weeks before the season begins.
"There's enough for a full varsity lineup and a full JV lineup, and then some," Bathauer said. "That means there will be more competition for those varsity spots."
Six runners from last year's 18th-place finish at the state meet are back for the boys, and the combination of hard work over the summer, a few newcomers and attrition at other schools could amount to the Bulldogs at least cracking the top 10.
"I'm excited about what could happen," Bathauer said. "Once we get our top seven set, eight through 10 will be interchangeable, and we should have a strong lineup."
Senior Jesse Peterson finished 28th last year and comes in as the top 'Dawg, and sophomore David Haun is expected to push Peterson.
Sophomore Shaun Wooten and senior Jesus Lozoya are paired up in a battle for No. 3, and sophomore Preston Hammond and freshman Patrick Webb are right behind them.
Other runners for KHS who will push to be in the starting lineup are seniors Kevin Gibelyou, Kevin Laird and Brennan Cruz. Junior Leonardo Delgado and sophomore Ethan Swenson are in the running as well.
"They're excited about the season," Bathauer said. "We've been on a positive trend. I have kids that work. You have to be self-motivated to be out here, and they are."
Young girls
After the girls team's top two runners, who are sophomores, the Lady Bulldogs enter the season with five freshmen behind them. This type of lineup usually causes concern and thoughts of rebuilding, but Bathauer sees it as an opportunity.
"We've got high expectations, but we have to get through the youth," the coach said. "We're running 5-6 days a week and are putting in the miles for those who didn't do anything over the summer."
Paige Cardiff leads the Lady Bulldogs after she placed 23rd as a freshman last season. So thin was the team last season, Cardiff had to run with the boys team during practice.
However, this season Cardiff is joined by sophomore Shannon Johnson. Johnson only ran during track last year and has stepped in at No. 2.
"Shannon is a little behind Paige," Bathauer said. "It's nice to have someone who can run with Paige."
Freshmen Alexis Bathauer, Olivia Anderson and Katie Tarr have started the preseason at Nos. 3-5. Tarr's coach has noticed her commitment to the team.
"We only get Katie three days a week because she lives in Wikieup," the coach said. "She's only been at two practices and has already cracked the top five."
Paulina Delgado and Haley Moore are also freshmen and round out the starting lineup at this point. The team has a lot of potential, but the closeness of their individual times give them promise for this season.
"I've got seven strong with two more on the way," Bathauer said.
"We just need five who can run together."
KHS tentatively opens the season Wednesday, Sept. 1, against Surprise Valley Vista.