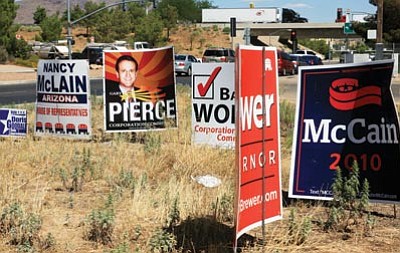 Originally Published: August 23, 2010 6 a.m.
Note: This is the second of a three-part series looking at candidates up for election in Tuesday's primary. This segment continues the review of candidates for governor.
Governor
Barry Hess-L: According to his website, Libertarian candidate Barry Hess has been an entrepreneur since he was a youngster and put himself through Fordham University. He has worked as a fraud investigator for a major insurance company.
If elected governor, Hess has promised to secure the Arizona border and reform the immigration, education and tax laws of the state.
His plan to secure the border includes stopping all border crossing except at current ports of entry. He would do this by setting up a multistage border security system designed to discourage border crossings. The first step of the system would consist of signs clearly marking the border between Arizona and Mexico. A non-lethal electro-magnetic pulse would be used to disable any vehicles attempting to cross illegally. The second step would be a non-lethal ultrasonic device that would stop people in their tracks. The third step would be a non-lethal pulse of microwave energy that would make it feel as if your skin was burning. The last step would be seismic sensors that would detect movement along the border. Hess would also like to patrol the border using spy drones and bring back the Arizona Rangers.
Hess would send control of education back to the private sector. He would repeal all school property taxes and end tax-exempt status for all schools. He would continue and expand the state's tax tuition credits for families.
To help bolster the economy, Hess would cut any programs that are not mandated by the state constitution and repeal all non-essential government regulations on business. He would eliminate taxes on individuals and set a flat sales tax and business tax.
For more information on Hess, visit www.hessforgovernor.com
Bruce Olsen-L: Bruce Olsen is another Libertarian candidate. He was born in Nebraska, served in the U.S. Navy and Air Force and flew airplanes for a commuter airline. In 1974, he started his own aircraft sales company and expanded it until he sold it in 1993. He also started his own auto dealership in 1988 and moved into real estate in 1996. In 2002, he moved to Overgarrd, Ariz. In 2006, he helped Don Goldwater in his campaign for governor. He is a member of the Minutemen.
If elected, Olsen has vowed to balance the state budget, reduce the size of state government by 60 percent, secure the state border and work with other border states, return all federally managed lands to the control of the states, end residential property taxes, make English the state language, eliminate federally chartered banks from the state, deport all illegal immigrants, eliminate No Child Left Behind and cut funding to education by 40 percent, stop taxpayer funding to colleges and universities, denationalize the national guard, stop funding federally mandated programs, create a tax credit program to encourage businesses to buy new equipment, return all property rights to their owners, and refuse to sign any legislation that has been lobbied by groups that receive taxpayer dollars.
For more information on Olsen, visit www.bruceolsen4gov.com.
Alvin Ray Yount-L: According to his website, Yount, a Libertarian, was born in Hannibal, Mo. He worked as the communications manager for Santa Barbara County for seven years. He worked in an executive position for WorldCom in Westlake Village, Calif., for five years. He made a bid for a seat on the California Legislature in 1984. In 1994, he moved to Colorado, started a beef ranch and worked for the Colorado Republican Party. He moved to Prescott in 1998.
According to his website, he has a master's degree in Journalism from Regent University in Virginia. He has taught writing, speech, business communication, business ethics and other classes at Regent University, Prescott College and Embry-Riddle Aeronautical University.
If elected, he would use illegal immigrants to build a border fence, balance the state budget, remove all traffic cameras and strengthen parents' rights to home school their children, know if their children are going to have an abortion or are using birth control. He also believes in state's rights and would only serve one term as governor.
For more information on Yount, visit www.alvinrayyount.com.
Jan Brewer-R: Incumbent Brewer is the lead Republican candidate for governor. She has lived in Arizona for 39 years and spent 28 years serving in state and local governments. She served in the Arizona House of Representatives from 1983 to 1986 and in the Senate from 1987 to 1996. She also served as a member of the Maricopa County Board of Supervisors. She was elected Secretary of State twice, once in 2002 and again in 2006. She is the fifth Arizona secretary of state to succeed to the governor's office in the middle of a term. According to her website, as secretary of state she cut costs by updating laws, removing unnecessary publication requirements and consolidating her workforce. She helped create the state's Help America Vote plan.
As governor, Brewer signed Arizona's illegal immigration bill, worked to make sure that state and local government entities are not giving public services to illegal immigrants and returned illegal immigrants to the custody of the federal Immigrations and Customs Enforcement department. According to her website, she has cut the state budget by $2 billion, balanced the budget and reduced the number of state employees by 10 percent. Brewer also fought to prevent cuts to education and public safety budgets. She has joined a state lawsuit against the federal government's healthcare plan and signed laws preventing partial birth abortions, requiring 24 hour waiting periods and parental consent before having an abortion. She has entered the state into a job training partnership with Microsoft.
For her first full term in office, Brewer has pledged to continue to work on illegal immigration, reduce the size of government, balance the budget, fight federal healthcare mandates, bring in new jobs to the state and protect education and public safety.
Matthew Jette-R: Jette is the only Republican still actively running against Brewer. According to his website, Jette has promised to grow the economy by luring businesses to the state through a better-educated and better-trained workforce. He would also work to bring more jobs into the state by creating a mass transportation system, improving telecommunication and encouraging the research and development sectors.
He would encourage schools to teach students to think rather than memorize. He would institute performance measures that would be fair to the teachers and the students. He would encourage schools to adopt the best practices from around the nation, including creating trade academies in each school. He would also re-examine charter schools.
He would create a front door approach to immigration, working with employers to match them with the best employees. He would require background checks and proper documents for each immigrant. Jette would also expand the border crossing card system and create a fund that would help pay for healthcare and education costs for immigrants. Previous illegal immigrants would pay for the fund through back taxes. He would also create a pilot program with Mexico.
Jette would reform the healthcare tort system and create a panel to determine the medical necessity of procedures to stop preventative medicine by doctors. He would also create a wellness program that would give residents tax incentives to keep healthy.
State Senate
Beth Weisser-D: Weisser is the only Democrat running for Mohave County's Arizona Senate seat. She has lived in Arizona since 1984 and in Kingman since 2002. She is a teacher and has experience in real estate and in small business. She earned a bachelor's degree in business administration from Morningside College in Iowa. She moved to Phoenix in 1984 and opened a landscaping business with her ex-husband. She moved to Sanders, Ariz., in 1992 and served on the Puerco Valley Volunteer Fire Department Governing Board and the Apache County Planning and Zoning Board of Adjustments. She has taught business courses at Northland Pioneer College and operated a towing and car repair business.
She plans to use her business background to help balance the state budget and bring more jobs into the state, and use her teaching experience to help build stronger schools.
Ron Gould-R: Gould is the only Republican running for Mohave County's Senate seat.
Arizona House
Ray Cullison-R:Cullison is the only non-incumbent running for Mohave County's House of Representatives seat in the Arizona Legislature. He moved from California to Kingman in 1973 and grew up in Kingman. He has been a city of Kingman employee for the last 23 years.
He supports Arizona's illegal immigration bill and would like to take a step further making sure that Arizona is an English-only state. He would repeal Prop. 204, which expanded Arizona's Healthcare Cost Containment System. He also supports the Second Amendment and would require anyone on public assistance to pass a drug test.
For more information on Cullison, visit www.cullison2010.com
Doris Goodale-R: Incumbent Goodale was born in Tucson and raised in Kingman. She graduated from Phoenix College and Arizona State University. She worked for 34 years for Mohave County. She also served 18 years on the Kingman School Board and helped with the unification of the Kingman School District.
According to her website, Goodale would continue to work to close the Arizona border. She voted for Arizona's illegal immigration bill and sponsored a bill that would crack down on schools that teach students from Mexico. She would also make the state more competitive and bring in more jobs by eliminating unnecessary business regulations and taxes. She would also continue to work to balance the state budget by forcing the state to live within its means.
For more information on Goodale, visit www.goodale.victorydiy.com.
Nancy McLain-R: McLain is running for her fourth and final term in the Arizona House of Representatives. She and her husband own Namac Services of California. She has pledged to continue to work with local governments in her district to represent the best needs for their communities. She also said she will continue to work on bringing new jobs and businesses into the state.
For more information on McLain, visit www. nancymclain.com
Secretary of State
Chris Deschene-D: Deschene grew up on the Navajo Nation in Lechee near Lake Powell. He now lives in Window Rock. He graduated from the U.S. Naval Academy with a degree in mechanical engineering. He served 10 years in the Marine Corps, served two tours oversees and was the executive officer of 160 Marines. He retired as a major. He earned a law degree and a master's degree in Mechanical Engineering with a concentration in renewable energy simultaneously from Arizona State University. He has most recently served as the District 2 Representative to the Arizona House. As a member of the House, Deschene worked on laws that protected healthcare consumers from being excluded from coverage due to existing conditions, increased mental healthcare benefits, helped protect residents from foreclosure, allowed voters with P.O. boxes to sign petitions for candidates and more.
If elected, Deschene stated on his website that he would protect the voting rights of Arizonans by increasing election security, increasing the transparency of the secretary of state's office, making it easier for voters to register or change their registration and review and streamline the election
system. He has also pledged never to endorse a candidate running for office, if elected to the position.
For more information on Deschene, visit www. descheneforarizona.com.
Sam Wercinski-D: A member of former Gov. Janet Napolitano's cabinet, Wercinski served as Arizona Real Estate Commissioner. He graduated from the U.S. Air Force Academy in 1984 and was stationed in Glendale in 1985. He has a master's degree from Thunderbird. He is a former small business owner and has worked in real estate and with non-profit organizations. He helped create the Homebuyers and Renters Bill of Rights.
If elected, Wercinski would ensure that all votes cast in elections are counted. He would work with local leaders and business to create jobs. He would partner with the Arizona Attorney General's Office to protect Arizonans and donors to non-profit organizations from fraud.
For more information on Wercinski, visit www.sam4az.com.
Ken Bennett-R: Bennett was born in Tucson and grew up in Prescott. He is the current secretary of state and inherited the position after Gov. Jan Brewer was appointed governor. Bennett has also served in the Arizona Senate, the Prescott City Council, the Arizona Board of Education and the Arizona Charter School Board. He has also served as the CEO of the family business, Bennett Oil Co.
If elected, Bennett has pledged to look for new and better technology to help voters, improve customer service and cut red tape for businesses.
For more information on Bennett, visit www.bennettarizona.com.
Michelle Lochmann-G (Write-in): Lochmann is a Green Party Candidate for Secretary of State. No information could be found on her.
Attorney General
David Lujan-D: Lujan grew up in Phoenix and graduated from Arizona State University. He has served as an attorney for the National Labor Relations Board, as a prosecutor, as an assistant attorney general and in the Arizona House of Representatives as the minority leader. He has also served with Defenders of Children, an organization that helps children and adults who are victims of abuse.
He has fought to have renters notified if the home they are living in has gone into foreclosure, to allow consumers to freeze their credit reports if they think they are the victim of ID theft and forced businesses to better protect consumers' personal data. If elected, he has vowed to protect consumer rights by going after fraudulent activity, ID thieves, abusers of children and adults, and smugglers.
According to his website, Lujan plans to educate consumers, especially seniors, about fraudulent activity and ID theft and create an Elder Law Task Force. He plans to push for full funding for Child and Adult Protective Services and bring more services to rural areas. He will also work with other agencies and states to stop drug cartels and secure the Arizona border.
For more information on Lujan, visit www.davidlujan.com.
Vince Rabago-D: Rabago was born in Douglas and graduated from the University of Arizona in 1989 with a degree in Political Science. He earned his law degree from the University of San Diego School of Law. He served as a prosecutor for the California Attorney General's Office for eight years. In 2002, he returned to Arizona to work as an assistant for the Arizona Attorney General. He worked in both states as a death penalty prosecutor. In 2005, he moved in the Arizona Attorney General's Consumer Protection Unit and investigated and prosecuted a number of consumer fraud cases including mortgage fraud, non-profit fraud, payday lenders, online privacy and protecting children from online predators.
Rabago has also taught constitutional law and the death penalty at the University of Arizona. He has tried cases before the Arizona and California Supreme Courts, the district court, the 9th Circuit Court of Appeals and the U.S. Supreme Court.
For more information on Rabago, visit www.vince4az.com
Felecia Rotellini-D: Rotellini was born in Sheridan, Wyo., and graduated Magna Cum Laude from Rocky Mountain College. She graduated in 1986 with a law degree from Notre Dame Law School. She has served as a private and public attorney for the last 23 years.
She joined the Arizona Attorney General's Office in 1992 and worked in both the civil and criminal divisions, especially in real estate and fraud cases. In 2006, she was appointed superintendent of the State Banking Department, which later became the Department of Financial Institutions. In an effort to minimize the impact of the mortgage crisis, Rotellini created a Mortgage Fraud Task Force that included local, state and federal officials. She also helped create a law that requires mortgage loan officers to be licensed in Arizona. She left the state in 2009 for Zwillinger and Greek, PC.
If elected, Rotellini has pledged to protect seniors and others from fraud. She plans to create an Elder Affairs Unit within the Attorney General's Office and expand current programs. She also plans to create an Elder Law Advisory Group to advise the governor. She's vowed to prosecute mortgage fraud and streamline the prosecution process. She's pledged to work with other states, local and federal officials on closing Arizona's borders.
For more information on Rotellini, visit www.feleciaforarizona.com.
Tom Horne-R: Horne has served the last seven years as Arizona State Superintendent of Schools. He has also served as a member of the State Legislature, as Judge Pro Tem for both the Superior Courts and Court of Appeals. He has 30 years of courtroom experience.
If elected, Horne has promised to protect the border by reopening and increasing staff at offices; partnering with local, state and federal agencies; and seizing assets from smugglers. He would enforce state laws to protect residents and create a legal environment that would attract new businesses and new jobs.
For more information on Horne, visit www.electtomhorne.com.
Andrew Thomas-R: Thomas graduated from Harvard Law School in 1991 and moved to Arizona in the same year. He has served as an assistant Attorney General, a prosecutor for Maricopa County, a legal advisor to the governor, chief attorney for the Arizona Department of Corrections and recently Maricopa County Attorney. He ran for Attorney General in 2004 and lost.
He is known for cracking down on illegal immigration and seeking the maximum sentence for sex offenders and career criminals. If elected, he has pledged to expand the office's prosecution of illegal immigrants.
For more information on Thomas, visit www.thomasforarizona.com.
State Treasurer
Andrei Cherny-D: Cherny grew up in California and graduated from Harvard. He has served as an assistant to the Arizona Attorney General on fraud cases; as a senior White House official for the Clinton administration; as an advisor to Microsoft, KB Homes, Advance Micro Devices and Cablevision; and founded the think tank Democracy. He has also served in the Naval Reserve.
If elected, Cherny has pledged to work across party lines and make Arizona a home where new businesses can grow, especially solar technology. He feels the state should invest state dollars in state industry instead of Wall Street. He'll use the office's audit power to reform state spending.
For more information on Cherny, visit www.andreiforarizona.com.
Thane Eichenauer-L (Write-in): Eichenauer is the only Libertarian candidate running for Treasurer. No information could be found on him.
Ted Carpenter-R: Carpenter is one of four Republicans running for the treasurer. No information could be found on him.
More like this story