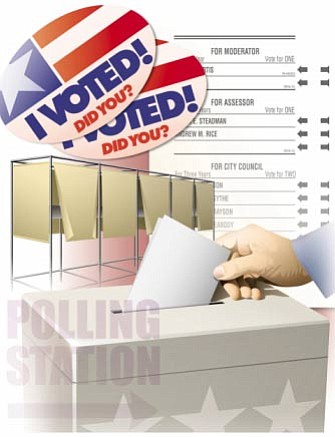 Originally Published: August 26, 2010 6 a.m.
KINGMAN - Approximately 21 percent of Mohave County voters made it to the polls Tuesday. As of 1 a.m. Wednesday, only 31 votes separated Kingman Constable candidates Mike Cobb and John Slaughter. However, the County Voter Registration and the Election departments still have several hundred early and provisional ballots to count that could swing the election to either candidate.
Voters will not know who has definitively won the race until the official canvass of the vote next Thursday.
According to Arizona Revised Statutes, an automatic recount of the votes would be triggered if the difference between the two candidates is 10 votes or less.
There is a similar toss-up between candidates for the Arizona Attorney General's Office. Democrats Felecia Rotellini and David Lujan are separated by only 1,350 votes. Republican candidates Andrew Thomas and Tom Horne are separated by 373 votes. A recount will be triggered if the difference in votes falls below 200 votes in either race.
Mohave County followed the state closely in all but a few races.
Mohave County Democrats voted for Cathy Eden instead of Rodney Glassman as a challenger to Sen. John McCain. County Democrats also favored Renz Jennings for Arizona Corporation Commission over Jorge Garcia.
Mohave County Libertarians preferred Bruce Olsen to Barry Hess as their gubernatorial candidate.
The race between J.D. Hayworth and McCain was also a little closer in Mohave County. Hayworth received 35 percent of the Republican vote in the county compared to 32 percent at the state level.
McCain received 53 percent of the county vote compared to 56 percent of the state vote.
Brewer was the overwhelming choice of Mohave County Republicans with 85 percent of the vote.
Chloride had a recall election for its water district board. According to unofficial results, Winnie Kimpton, Terry Smith and Ben Jones beat out Dennis Christman, Jon Fry and Jack Anthony for seats on the board.