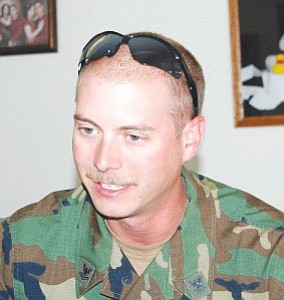 Originally Published: August 26, 2010 6:01 a.m.
KINGMAN - The same outfit that held a ceremonial send-off for Justin McNeley before his deployment in 2009 will gather again this weekend to honor the 30-year-old father of two who was killed in Afghanistan in July.
The Patriot Guard Riders will hold a memorial ride in McNeley's honor this Saturday. Riders will meet at VFW Post 10386 on John L. Avenue at 10 a.m. They will be joined by members of McNeley's family before departing at 11 a.m. for a ride to the Veterans Memorial Park, also known as Locomotive Park, on West Beale Street, where a brief ceremony will be held.
The riders will then head to Chuy's on Stockton Hill Road around noon for a benefit lunch in honor of McNeley's two school-age boys.
Funeral services were held earlier this month in Colorado, where McNeley had lived prior to moving to Kingman in 2004. His mother, Sharon Wood, is a real estate agent here.
McNeley was killed July 23 after he and another sailor were caught in a gunfight with the Taliban after the pair drove into a dangerous part of the eastern province of Logar in Afghanistan that is said to be under insurgent control. The second sailor, 25-year-old Jarod Newlove of Renton, Wash., was captured by the Taliban. His body was later found outside of Kabul.
Around 6,500 Navy personnel are assisting U.S. forces in the landlocked Afghanistan. McNeley and Newlove were part of a group stationed there to teach Afghan troops about counterinsurgency.