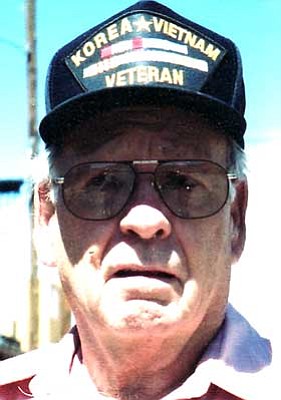 Originally Published: August 27, 2010 6 a.m.
Charles E. Crabtree passed away Tuesday, Aug. 24, 2010, at 11:15 p.m. at Desert Highland Care Center in Kingman. He was born Oct. 4, 1933, in New Castle, Ind., to Ewing Crabtree Sr. and Lela Crabtree.
He joined the Army in 1951 and went to Korea until 1952; then he went to Germany in 1953, where he met his wife, Rosa. He came back to the States in 1957, then went back to Germany for a second tour. That is when they were married in 1959 and both came to the States in 1960. They just had their 50th Wedding Anniversary last year.
In 1968, Charles went to Vietnam. He was awarded the Bronze Star and the Medal of Military Merit. They moved to Kingman in 1984.
Charles loved to fish, hike, and paint landscapes and portraits. He also wrote poetry. Together he and Rosa hiked the Grand Canyon; Supai was a favorite and the Hualapais.
He will be very much missed by all who knew him, but most of all by his loving family: his wife of 51 years, Rosa; his beloved brothers, Ewing Crabtree Jr. of Meadview; his beloved sisters, Joyce E. Christian, Ruthie Foster and Debbie Wilcox, all of Indiana, Sheila Marshall of Illinois, and Judith Face of Kingman.
May he rest in peace. He was a wonderful man and human being. No services will be held.