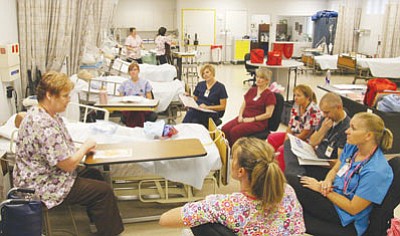 Originally Published: August 29, 2010 6 a.m.
KINGMAN - Nursing classes began this week at Mohave Community College's newest campus building located at 1801 Detroit Ave., and while students and instructors alike are no doubt impressed by the 10,000-square-foot Detroit Avenue Center's amenities, the most fascinating feature by far are its two newest occupants.
Though it's still early in the semester, nursing students have already been introduced to the SimMen. Short for Simulated Mannequin, each SimMan has a state-of-the-art computer-controlled body designed to simulate literally dozens of medical afflictions with realistic symptoms and reactions.
"As these students work with the mannequin, we base the reaction off what they're doing," said Mark Kucharek, a longtime nurse himself and the technician in charge of regularly controlling the SimMen.
"We base the scenarios off what level the students are in class. Once they have some theory behind them from the classroom, we base the scenarios off what they've been learning."
Kucharek noted that mannequins are hardly new to medical training - nursing students have been using fake arms to practice IV insertion for years - but SimMan is the first chance MCC has had to place nursing students into realistic but rare hospital situations they might otherwise never experience in the 120 hours they are required to spend each semester doing clinical work in local hospitals.
As an example, in one test on Thursday afternoon, Kucharek was able to program the SimMan to exhibit central cyanosis, a bluish discoloration of the lips that signifies poor blood oxygenation. The condition is represented on the SimMan by a pair of blue lights located in the mouth as well as simulated coughing noises, which prompt the students to try techniques they've learned to determine whether it's being caused by an obstruction in the throat, heart failure or an intracranial hemorrhage, among other things. "We can come in, and it's at our fingertips," said fourth-semester nursing student Amber Becker. "So if I see a code that I've never had before, instead of waiting for it to happen (at a local hospital), you know what to do."
"By increasing the frequency of certain conditions, we can increase their proficiency, too," Kucharek said. "And as the students try things, I can keep a log of what they do."
The SimMen are each located in a pair of rooms designed to emulate a typical hospital environment, including the various tools of the trade - syringes equipped with electronic labels representing various medications, an oxygen mask, intravenous saline drip and a computer that shows the SimMan's vital signs. Behind a one-way mirror, Kucharek sits at a laptop where he can manipulate the SimMan's vitals to simulate various conditions, then monitor the students' progress in assessing and treating them. He can also communicate with students via a two-way intercom and can visually record each session for review and analysis.
Each SimMan comes pre-loaded with 70 separate scenarios, and Kucharek can mix and match symptoms to create many more - he can dilate the eyes, cause convulsions, raise or lower the heart rate and blood pressure, and even cause the SimMan to cry, bleed or drool.
"The mannequins can be used to teach intubation (insertion of an air tube into the throat), airway management, assessments from normal to complex situations," he said. "We can change the heart rate and rhythm on the monitor so students can get practice reading EKGs. The SimMan also makes sounds - lung sounds, heart sounds, even abdominal sounds."
Kucharek noted that he can even "kill" the SimMan, which he said can be used to test students on how to deal with end-of-life procedures for dying patients, an unpleasant but necessary part of any nurse's work. "We're hopeful we can get as much use out of it as we possibly can," said Dr. Fred Gilbert, MCC's Kingman campus dean. "You can see the enthusiasm the students have when they're able to connect the theory they've learned with actual events."
Kucharek said the SimMen are currently only being used for nursing students in their second and fourth semesters, though the college's goal is to eventually expand their use to all semesters. He, too, hopes to see the SimMen see a great deal of use for supplemental education outside of the time students are required to spend with them in their coursework.