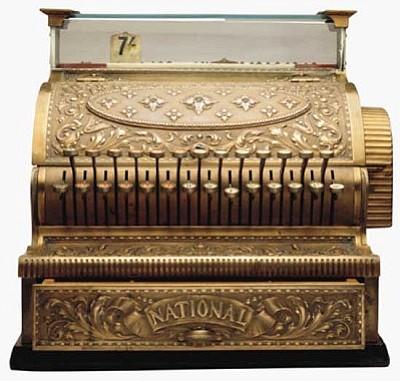 Originally Published: December 3, 2010 6:01 a.m.
KINGMAN - While retail analysts are predicting modest gains in retail sales this holiday season, the news comes as a cold comfort to Kingman's Financial Services Director Coral Loyd, who has been watching the city's overall sales tax receipts plummet this fiscal year.
From July through November, the city of Kingman collected just under $4.4 million in revenues from its 2-percent sales tax.
That's down nearly 17 percent from the same period last year, and the sharpest such drop in sales tax collections the city has seen since the recession began in 2007.
While the city has seen its sales tax receipts drop every year since 2007, Loyd said the latest numbers give her cause for concern.
If revenues continue to come in at this rate, it will leave the city with just $10.2 million in total revenues for the year - $1.2 million less than $11.4 million the city had budgeted for, and even that had been a fairly conservative estimate, Loyd said.
"Last year at this time, we were basically flat compared to the prior year. But this year, to be off 17 percent and really not know if people have changed their spending habits or whether it's a reporting issue, I have great concern," she said. "If it is an accurate reflection (of the rest of the fiscal year) and we have to shave an additional $1 million out of the budget, where are we going to get that? Yeah, I'm concerned."
Loyd pointed out, however, that so far, actual sales tax collections are only about $356,000, or 3.13 percent, below where she anticipated they would be at this point in the fiscal year. If collections stay within that 3-percent margin of error, she said, Kingman can expect slightly easier-to-handle losses of only about $856,000 for the year, rather than the $1.2 million figure cited above.
But even that is hard to anticipate since Kingman's sales tax receipts don't seem to follow any strict pattern throughout the year. While one might expect sales tax collections to rise during the holiday shopping season, the actual numbers show only modest shifts from December through March, which vary from year to year. For example, last December's revenues fell by more than $400,000 from the prior month, while in fiscal year 2009, December showed a slight increase.
"There is some increased spending locally during the holiday season, but it's not vastly different from what people spend on a monthly basis in Kingman," Loyd said. "The numbers are so skewed from one month to another, it's hard to correlate them to any one event or activity or holiday. When you take the total and divide by the number of months, the average is a better way of looking at it."
Asked why that is, Loyd said she wasn't sure, but it could be due to several factors: Local businesses could be failing to report their sales to the Department of Revenue in a timely manner; the Department of Revenue could be failing to do the same in forwarding its collections to the Treasurer's Office; and the Treasurer's Office could be following suit in remitting those sales tax collections to the individual cities and towns.
"Or, it could be a combination of all three," Loyd said. "We've spoken to both the Department of Revenue and the Treasurer's Office recently, and they've both said they remit it as soon as possible."
But local governments in Kingman and in other cities across the state have been skeptical of those claims, especially since Loyd's department alone has uncovered multiple instances of the Department of Revenue failing to properly remit sales taxes, in several cases actually refunding the entire amount to the business due to a clerical error or improperly filed form.
Some cities have become so frustrated with the Department of Revenue that they have pursued their own auditing or tax collection methods. Even Kingman is now in the process of pursuing a third-party auditor to pursue sales tax collections, with a contract agreement likely to come before Council some time early next year.
"Self-collection at least allows you to have the data to make an informed decision about the effectiveness of the 'shop local' campaigns, whether businesses are remitting in a timely manner and whether advertisements are working," Loyd said.
Loyd added that one possible factor affecting local sales may be the expiration of various tax incentives, such as the Cash for Clunkers and First-Time Homebuyer programs, that spurred purchases in the automotive and housing markets through the first half of this year. With those programs now gone, she said many consumers have tightened their belts and are attempting to save money and pay down their debts before they begin spending freely again.
"Right now, I do believe people are trying to pay down debt," she said. "I think people are going to be less prone to credit in the future than in the last 10 years."
As to the decline in sales tax receipts forcing the city to consider unpopular cuts to public services, Loyd said she will likely know by February whether or not it's time to get out the scissors ... or the chainsaw.
"I have had a hard time believing that prices of basic commodities have rolled back to 2004 levels," she said of the falling tax revenues. "But again, we're not going to know until February."