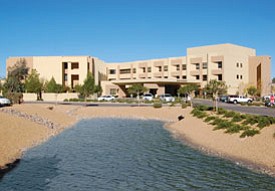 Originally Published: December 6, 2010 6:01 a.m.
KINGMAN - Local hospitals could be feeling the pinch even more next year. The Associated Press reported recently that the Arizona Health Care Cost Containment system, the state's Medicaid program, plans to reduce its payments to doctors, hospitals and other healthcare providers by 5 percent starting April 1. The cuts were approved as part of last year's state budget process.
According to Kingman Regional Medical Center Chief Financial Officer Larry Lewis, AHCCCS payments to hospitals have been frozen for the last three years.
If the payment cuts go through, the hospital would see a $1.5 million decrease in payments each year they are in effect, Lewis said.
That decrease could come on top of a 25-percent cut in payments for out-patient surgical procedures AHCCCS wanted to implement in October, he said. The cut in payments for out-patient surgery would cost the hospital approximately $1 million a year. KRMC and several other healthcare providers in the state are currently negotiating with AHCCCS on that cut in service.
In the last three years, the hospital has averaged between $5 and $6 million in revenue per year and had 32,000 visits from AHCCCS patients last year, Lewis said. The hospital is a non-profit so the revenue collected goes right back into the facility.
He wasn't sure exactly what kind of impact a $2.5 million cut in payments would have on KRMC.
"We still have to provide those services to people. If someone comes into the hospital saying that they are having an emergency, we have to treat them," Lewis said. "It's not going to be an easy task."
But he doesn't feel that the hospital will have to do what John C. Lincoln's North Mountain Hospital in Phoenix did recently.
According to the Associated Press, that hospital announced the closure of its birth center Thursday evening due to the region's declining birthrate and cuts to the AHCCCS.
John C. Lincoln was expecting to lose $2.2 million next year because of the cuts. The closure is expected to impact 99 full-time, part-time and on-call nurses and staff at the hospital.
KRMC could be forced to put a hiring freeze into effect, putting additional strain on staff, Lewis said. But he was pretty sure the hospital wouldn't have to close any of its facilities.
Hualapai Mountain Medical Center was contacted for this story but did not respond.