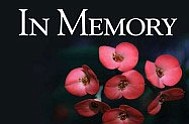 Originally Published: December 9, 2010 6:01 a.m.
The Rev. Sylvia Lorraine McDonald passed away on Friday, Oct. 15, 2010. She was preceded in death by her mother, grandmother, and daughter, Sherry Crabtree. She is survived by three grandchildren.
Services will be at 7 p.m. Friday, Dec. 10, at 414 Park St., Kingman, with Pastor Mildred officiating.