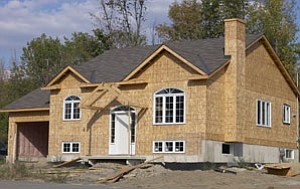 Originally Published: December 14, 2010 6:01 a.m.
KINGMAN - Don't look now, but the property next to yours might be an escapee.
An escaped property is a property that has a building or other improvements on it that haven't been added to the county's tax rolls, said County Assessor Ron Nicholson.
Recently, the Miner and the Assessor's Office were alerted to a property that had a house on it that was not on the county's tax rolls. Nicholson said the home was recently added.
"We really don't have much of a problem with it (escaped properties)," he said. The department is usually notified of a change or an improvement, such as a house or garage, to a property when an property owner files a building permit with the County Planning and Zoning Department.
However, not all residents get building permits like they are supposed to, Nicholson said.
In order to catch some of the un-permitted additions, employees from the Assessor's Office drive around the various areas of the county on a regular basis looking for property improvements such as porches, garages, etc.
There's only been two times in the last 10 to 15 years where county employees have missed a major structure, such as a house, on a property, Nicholson said.
In one case, it was a house that was nestled out of sight from the road against the far side of a mountain. The Assessor's Office was alerted to the home by a neighbor.
The home was built without a permit, which was why the Assessor's Office was unaware of its existence, Nicholson said. The continual updating of the county's geographic information system, which uses aerial photographs to map properties, also helps, he said. The problem with escaped properties is that the county can't recoup taxes from previous years, he said.
They can only charge taxes for the years after the improvements are added to the tax rolls. Which isn't fair to other taxpayers who follow the rules, but that is the way the state law is written, Nicholson said.