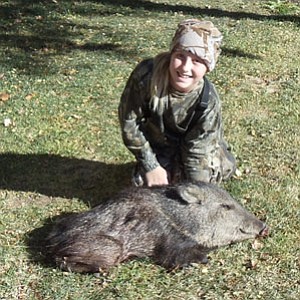 Originally Published: December 15, 2010 6:01 a.m.
Anyone who has lived in Kingman for any length of time has heard of or knows the Snay family.
Scott was a high school teacher for many years and seems to know everyone in town. Scott and his wife, Kellie, have lived here more than 30 years and they've raised their family here.
They are all good hunters.
The Snay's oldest daughter, Sarah, was an outstanding high school athlete and an accomplished hunter. Matt was another outstanding high school athlete and has hunted for as long as I can remember. He is in his last year of college in New Mexico and hopes to become a wildlife manager for the Arizona Game and Fish Department when he graduates.
The Snay's youngest daughter is Sadie, who is just 10 years old. Miss Snay was a recent honor graduate from our local Hunter Education Class.
And just like her siblings before her, Sadie has a keen interest in the outdoors, including hunting and fishing.
This year, the young lady drew one of the 100 fall javelina tags in game management Unit 18B, which is located east of Wikieup.
Sadie is involved in a lot of school activities, so it was going to take some real planning to find time for Scott and Matt to take her on her first big-game hunt. But before the hunt would ever start, Scott would spend a lot of time with his young daughter out on the range and in the field. The times at the range paid off, as the young hunter proved herself to be quite the shot. In the past she has bagged rabbits, squirrels and prairie dogs with her .22 rifle.
Scott had her practice for the javelina hunt with a Remington Model 700 in 222 caliber. That rifle was customized by the late Ed Higgins, who was a renowned gunsmith in the Kingman area. Anyone who owns a rifle that was "Higginized" owns a real tack driver.
With the technical part of the hunt being taken care of, all that remained was for the Scott, his son Matt, who was home from college, and Sadie to schedule some days to go to the field.
The first day the trio went out was very windy and cold. Though they didn't see any javelina, they did see a lot of wildlife. They spotted 46 antelope, 24 mule deer including one 3 X 3 buck, two coyotes and 20 ducks. "We saw everything but pigs," Sadie said with a smile.
The next time that they were able to go out, the weather was much better. They left Kingman early in the morning and headed back to the field.
When they arrived at an area that Scott wanted to hunt, it didn't take him long to find a group of four pigs.
The plan called for Matt and Sadie to make a stalk while Scott kept an eye on the unsuspecting herd.
Before the brother/daughter duo made it to the area, however, the pigs disappeared. A few minutes later, Scott glassed up yet another herd of eight pigs. They were a ways off, but Scott felt they could get close to them.
However, as they were driving toward this group, Scott saw yet another group of 12 pigs right below them on a brush-covered hillside.
Once again, Scott stayed on the high ground to keep an eye on the porkers while Matt and Sadie moved in.
They got set up at 84 yards, but all Sadie could see was the south end of two of the north-facing pigs. That's definitely not a good shot for the young hunter to take and she wisely passed on the shot.
The herd split up and was moving slowly in the brush but no shooting opportunities were afforded. Suddenly, Sadie spotted a pig that stepped out of the brush just 25 yards away from her.
She quickly got on target and squeezed the trigger and her first big-game animal, a young boar, was hers. The entire scenario had taken just over two hours to play out.
Scott and Matt were rightfully proud of Sadie's accomplishment, and the young lady is looking forward to more big-game hunting adventures with her family.
Sadie summed it up when she said, "I like to hunt, it is a lot of fun!"
More like this story