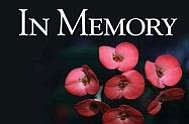 Originally Published: December 28, 2010 6:01 a.m.
Geraldine Hardy of Kingman went to be with the Lord on Thursday, Dec. 23, 2010. Geraldine was born on Sept. 2, 1920, in Ti, Okla. Geraldine moved to Miami, Ariz., when she was in her 20s.
Geri met her second husband, Leonard Hardy, in Miami; together they started the L.W. Hardy Turquoise Company. In 1965, they moved to Kingman and got the turquoise concession at the Duval Mine. They sold their business in the early 1980s.
Geri's survivors are her son, Doug Henslee (Susan) of Pinetop, Ariz.; her sister, Billie Wilson (Raymond) of Quinton, Okla.; grandsons, Mike Henslee of Pinetop and Craig Hardy of Chandler.
Visitation will be at 11 a.m. on Wednesday, Dec. 29, at Oak Street Baptist Church, 605 Oak St. The service will be at 11:30 at the church, followed by a graveside service at Mountain View Cemetery, 3015 Stockton Hill Road.
More like this story