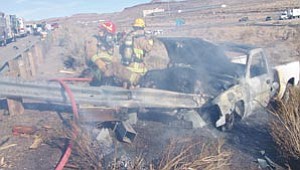 Originally Published: December 29, 2010 6:02 a.m.
KINGMAN - A 58-year-old Kingman man has died from injuries he sustained in a car accident on Christmas Eve.
Kim Penrod, the owner of Penrod Drilling, was reportedly on his way home from work around 1 p.m. Friday when his truck struck a guardrail on eastbound Interstate 40.
The guardrail pierced through the truck, which then caught fire.
Two men who had stopped found Penrod outside of the burning vehicle, according to Golden Valley Assistant Fire Chief Tom O'Donohue.
Penrod was taken to Kingman Regional Medical Center and later flown to University Medical Center in Las Vegas, where he died Monday.