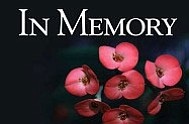 Originally Published: December 30, 2010 6:01 a.m.
James Arnold Hignite, age 64, crossed over on Thursday, Dec. 23, 2010, at home.
Jim was born on Aug. 17, 1946, in Midland, Mich. He leaves behind his loving wife of 44 years, Laura Hignite; and their three children, Michelle Bidwell (Erik) of South Bend, Ind., Cheryl DelaCruz of Kingman and Jim Hignite (Christy) of Midland; his sister, Martha Hignite of Leslie, Mich.; and eight wonderful grandchildren. He was preceded in death by his mother, Vera Hignite, and father, James H. Hignite, and his mother and father-in-law, Harold and Glenna Yarger; and many sisters and brothers-in-law.
Jim was an avid classic car collector and restorer. He also enjoyed his hunting trips with his family and traveling in his motor home.
Jim worked at General Motors in Flint, Mich., and retired after 35 years in 2000. Jim was well known as the handyman in his neighborhood.
A memorial service will be held at 2 p.m. on Saturday, Jan. 1, at Good Shepherd Lutheran Church.
In lieu of flowers, please send donations to KRMC Hospice or Good Shepherd Lutheran Church, 3958 N. Bank St., Kingman, AZ 86409.
Thoughts and condolences may be submitted to the family at www.lietz-frazefuneralhome.com.
Arrangements were placed under the care of Lietz-Fraze Funeral Home and Crematory, Kingman.