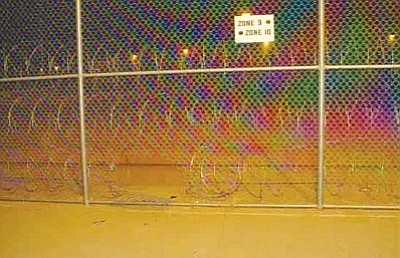 Originally Published: December 31, 2010 6:01 a.m.
EDITOR'S NOTE: As the year draws to a close, each reporter at the Miner is taking a look back at some of the biggest, most momentous, and most unusual stories they covered throughout 2010.
KINGMAN - The surprising thing about the July 30 prison escape of three inmates from the privately operated prison just outside of Kingman isn't that it happened. With nothing but time to dream of freedom, it's a wonder more prisoners don't call their cousins to help break then out, as Casslyn Welch allegedly did for her boyfriend and first-cousin John McCluskey and fellow inmates Tracy Province and Daniel Renwick.
What surprised - and angered - most residents, is how much easier the escape of the convicted murderers and attempted murderers was because of broken alarms and lax security at a prison that was never supposed to house violent offenders in the first place.
The prison opened in August 2004. During the planning stages, residents were told that the facility would only ever house DUI and other drug offenders, with an emphasis on providing a substance abuse treatment program.
Former ADOC director Dora Schriro approved the move to have violent, non-DUI offenders transferred to the prison beginning in May 2005. Nothing was ever said about the change to residents or county officials. Two years later, murderers moved in.
Current Arizona Department of Corrections Director Charles Ryan twice cancelled public forums scheduled after the escape before appearing before the Board of Supervisors Sept. 20. He detailed the failures of both the DOC and the Utah-based Management and Training Corporation that operated the prison, including an alarm system that had malfunctioned for so long that staff had become conditioned to ignore it.
Ryan spoke with reporters in the hall after the BOS meeting that day for about 10 minutes before cutting off questions. He said the violent offenders were transferred to Kingman because there hadn't been enough DUI offenders to fill the prison. He had no answers as to why residents and officials were never notified of the change. Nor could he say why the broken alarm system was never reported by staff or how officials didn't notice the problems during the investigation of a racially charged riot that injured around 30 inmates less than two months before the escape.
All of the escaped inmates have since been recaptured, but not before two innocent travelers enjoying their retirement were reportedly murdered by McCluskey, Welch and Province. The three face federal murder charges in New Mexico but are expected to stand trial first in Mohave County on escape and other related charges. The third inmate, Daniel Renwick, is being prosecuted in Colorado for shooting at officers there before his capture two days after the escape. So far, the county has been reimbursed $23,000 by MTC for the escape. The county is also expected to be reimbursed for costs related to prosecution.
Arizona Gov. Jan Brewer never responded to numerous requests for comment on the mismanagement that led to the escape. The Board of Supervisors has not discussed the prison escape since the September forum. The Department of Corrections has also not responded to a request made more than two months ago to tour the prison to make sure the security changes promised have been implemented.
Murders
Three murders in Kingman and the nearby area went unprosecuted in 2010. Christopher Gillespie was shot to death April 12 in the desert off of Old Trails Road. Two people were with him at the time, but no one has been arrested in his death. In August, an 18-year-old man was stabbed to death during an argument his mom says started over a video game. Several people witnessed the fight, but no one was ever arrested in the teen's death.
A month before that, 37-year-old Michael Sessoyeff was said to be unarmed when he was shot by Robert Alber after the two argued about a locked gate on their shared property. Alber has since only been charged with trafficking in stolen property after police investigating the murder allegedly found him in possession of a Taser stolen out of a Department of Public Safety cruiser weeks before the shooting.
Add to those murders the November 2009 stabbing death of Robert Buss in his north Kingman home and that makes four unsolved local murders in the last 14 months.
Residents respond
As it has in the past, the community stepped up several times this year to help when others found themselves in difficult situations. One of the best examples of that was in May, when 23-year-old Anthony Leija was struck by a truck and killed while trying to cross Interstate 40 on his way to a friend's house. In a story following his death, his family talked about the young man's musical talents and shining personality. They also lamented about how they were struggling to come up with enough money to pay for his burial.
Donations started pouring in the morning the story appeared in the Miner, with one man cutting a $500 check to the family. In the end, nearly $2,000 was collected from readers, employees of Ivy Steel and motorists who passed by a car wash in Anthony's honor. The family had just enough money to give their son, brother and friend the burial he deserved.
The community stepped up again for the family of 2-year-old Erik Glotkowski after the blond-haired toddler died four months after being severely burned. In fact, the Miner received numerous calls and e-mails following stories such as these about what they can do to help.
With all of the bad news making headlines day in and day out, it can be easy to lose sight of all of the good that takes place outside of the spotlight. If a community is judged not by its tragedies but by how it responds, it's no wonder why so many people call Kingman home.