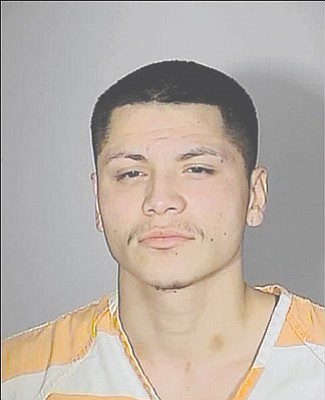 Originally Published: February 3, 2010 6 a.m.
KINGMAN - A man wanted in connection with the stabbing of a 24-year-old Kingman man at a Lake Havasu City bar was arrested Tuesday trying to catch a bus out of Kingman.
Ramey Villanueva, 23, was arrested by Kingman Police around 10 a.m. at the Greyhound bus station behind the McDonald's on Andy Devine Avenue after a resident recognized him from media reports.
Kingman Police Sgt. Bob Fisk said a large tattoo in the shape of Texas on Villanueva's neck gave him away.
Fisk added that the suspect had already purchased a bus ticket to Texas before being arrested.
Havasu police had been looking for Villanueva following a stabbing at a Havasu bar around 2 a.m. Monday morning.
Havasu police Sgt. Joe Harrold said Villanueva and a 24-year-old Marine from Kingman argued inside BJ's Tavern before the victim was stabbed outside behind the bar.
Both men were at the bar with different groups of friends, Harrold said.
Police are still determining the roles played by others in the incident, he added. Police know what started the argument but can't release that information because the investigation is ongoing.
The Marine is listed in stable condition at a Las Vegas hospital with non-life-threatening injuries.
Villanueva was released from the Arizona Department of Corrections last month on charges of aggravated assault.
He also has an active misdemeanor warrant out of Havasu for a parole violation. Police say Villanueva declined to make a statement before being booked into the Mohave County Jail.