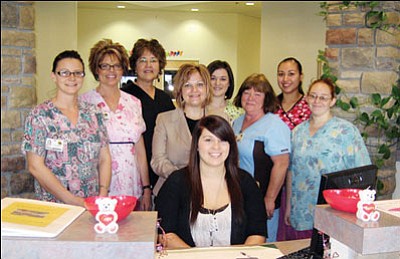 Originally Published: February 4, 2010 6 a.m.
KINGMAN - It's the little things that count when you're working with patients, according to the staff at the Lingenfelter Center. It was the little things that made January's U.S. News and World Report list the center as one of the best nursing homes in the nation. Out of the 173 nursing homes on the list, only four were from Arizona.
The staff found out the center made the list when a resident's family member brought in the magazine, said Director of Nursing Amy Elsbury.
U.S. News based their list off of the Nursing Home Compare program from the federal Centers for Medicare and Medicaid Services. The program analyzes all nursing homes enrolled in the Medicare or Medicaid programs. The nursing homes are given an overall rating of one to five stars and individual ratings in three categories: health inspections, nursing staff and measures of care.
U.S. News ranked the homes based on how many total stars each home got from the NHC and for health and fire inspections. The Lingenfelter Center received a total of 14 out of 15 stars from the NHC and passed two of the four inspections it had last year. The inspection problems were minor issues that were easily cleared up, Elsbury said.
The center focuses mainly on the care of residents who are suffering from dementia or Alzheimer's. The center is divided into three wings, each requiring a different level of care.
"We completely focus our care on the residents and their families," Elsbury said.
Unlike some nursing homes, the center does not force residents to adhere to a set schedule.
"Nursing homes came out of the hospital tradition," said Center Administrator Ken Kiddler. So most homes follow the hospital tradition of waking residents up, taking tests, providing food and activities and sending residents to bed at set hours.
This can be stressful to residents who may have worked night jobs and are used to being up at that time, said Residential Care Coordinator Cindy Grenier.
Residents at the center are allowed to pretty much do as they please, within reason, she said. They are allowed to get up when they want, watch TV, read, and eat as much as they want when they want.
They are also free to wander their individual wings or walk in courtyards outside.
Staff is specifically trained in this type of care, Elsbury said.
Residents will usually let a nurse know if something is not to their liking, Grenier said. Most nurses at the center have worked with the residents long enough and have enough of a relationship with them to understand what might upset them.
Because of its system of care, the center often gets residents that other nursing homes don't want or can't handle, said Head of Nursing Administration Cindy Vasquez. Many have behavioral problems that required other homes to restrain or medicate them.
The center has one of the lowest physical and chemical restraint usage rates in the state, Elsbury said, something nurses from other homes ask about the staff quite frequently.
Instead of trying to restrain or medicate a resident who may be yelling or acting out, staff members try to figure out if it was something they did, if the resident is asking for something or if they can distract the resident from the issue, Vasquez said.
"Sometimes that is their only way communicating with us. Drugs and physical restraints are always a last resort," she said.
"Our residents are special to us," Elsbury said.
The center also works extensively with family members and has two regular physicians who visit residents, she said.
Kidder credits the leadership of Elsbury, Grenier and Vasquez for keeping staff dedicated to the mission of the center, which is to provide the best care possible for the resident and their family.
Elsbury, Grenier and Vasquez credit the nurses they work with.