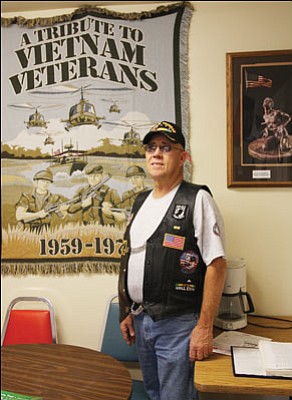 Originally Published: February 4, 2010 6 a.m.
KINGMAN - When Forrest Blackstock and Ralph McKie came back from the Vietnam War, they didn't get any ticker-tape parades or congratulations for their service. Instead, like many soldiers of that troubled time, they returned to jeers, shame and contempt from their fellow citizens.
"When we got stateside, because of the mixed emotions and feeling in the country ... we were treated unfairly for what we did," McKie said. "You didn't want people to know, and you kept it inside."
"It was best to just take all your medals off and not tell anybody," Blackstock added. "When I came back, I could not see the people I'd known - it just felt odd. And it took years for me to get over that."
It would take many more years of reflection and self-examination for the collective American consciousness to separate the civilian leaders who waged the war from the soldiers who fought it, and even now the war remains a difficult topic for many. But while McKie and Blackstock believe Vietnam veterans have finally started to receive the recognition and acknowledgement long overdue them, they claim the stigma associated with the war has forced many veterans to keep their memories and emotions to themselves.
"That's why so many Vietnam veterans have so many problems today," McKie said. "They've kept it bottled up for so long."
And that's why both men have agreed to never allow another generation of veterans to be abandoned.
McKie and Blackstock are members of the Vietnam Veterans of America, an independent, self-governing organization of vets whose purpose is to advocate for their fellow soldiers, support the new generation of veterans and hold the government accountable for ensuring the injuries and illnesses troops have sustained are properly addressed, whether they were received in the jungles of Quang Nam or the foothills of Kandahar.
While the VVA was founded in 1983, Chapter 975 in Mohave County wasn't established until 2006, with McKie serving as the chapter's current president. In the four years they've been active, the Mohave VVA membership has swelled from a few dozen to more than 100 local vets, McKie said.
The Mohave VVA has already done a lot of good in the county, particularly last year, when they established an all-volunteer Veterans Service Organization branch in Golden Valley at 4225 Highway 68, Suite G. Members also frequently work alongside the Knights of the Patriot motorcycle club to arrange proper send-offs and welcome-home parties for local soldiers sent overseas.
"We're very supportive of our troops today," McKie said. "We plan different events, and we help out other veterans. Anybody who comes to us that has a problem, we definitely try to help them out."
Frequently, that means helping inform veterans of the benefits and services they're entitled to that they might not know about. The Mohave VVA has also gone to greater lengths, such as helping one veteran's widow file the paperwork necessary to secure an American flag to honor her husband's memory, as well as a condolence letter from the president.
But some of the VVA's most ambitious projects, such as establishing three $1,000 scholarships for local high schoolers, cost money. And unlike the Veterans of Foreign Wars, the local VVA does not have a building of its own it can use to host fundraising spaghetti dinners or the like. Instead, the VVA depends on donations from the community, with fundraising assistance from places like IHOP and Arizona State Prison - Kingman, which raffles off grills built by prisoners.
"We do have some pretty good supporters out there," McVie said. "The word's getting out there that we are here, and we need people to join, we need people to donate."
The VVA's next big scheduled event is an all-day Veterans Expo at the Avi Resort and Casino in Laughlin Feb. 20. The event will feature four guest speakers who will address various issues including Agent Orange exposure, suicide prevention and the problem of homelessness among Vietnam vets. Doors open at 10 a.m. and the expo runs through 3 p.m., with entertainment provided by the Swing Dolls, a USO-style singing group.
For more information on the Vietnam Veterans of America, call (928) 377-1101 or visit their Web site at www.vva975.org.