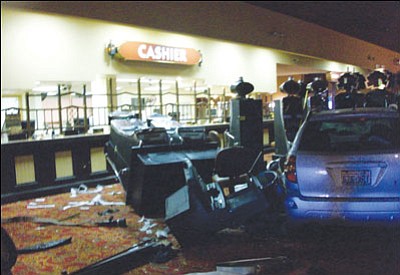 Originally Published: February 5, 2010 6 a.m.
KINGMAN - The elderly driver who smashed into a Laughlin casino Wednesday morning, killing two people, has been charged with two felony counts of reckless driving resulting in death.
Las Vegas Metro Police have identified the driver as 70-year-old Walter McGie of Kelso, Wash. Law enforcement previously gave his age as 75.
The names of the two women killed were not available from the Clark County Coroner's Office Thursday.
Police say McGie was driving east down Bruce Woodbury Drive at a high rate of speed when he ran a red light at Casino Drive and drove into the main entrance of the Edgewater Hotel and Casino around 9:30 a.m. Wednesday.
The Pontiac Vibe was headed down the wrong side of the casino driveway before hitting a raised median. The car then smashed through the entrance of the casino before coming to rest near the cashier's cage, more than 35 feet inside the entrance.
Nine people in the lobby and seated at a row of slot machines were hit. The two victims were pronounced dead at the scene. Seven others with varying injuries, including two in critical condition, were transported to area hospitals.
The Bullhead City Fire Department was one of several agencies that responded to the scene as part of a mutual aid response. Fire Division Chief Bill Kinsey said that
when he first arrived, he was expecting to see a car smashed into maybe a pillar in front of the casino.
"There was a large section of glass missing and a big hole, and you're thinking: There's no vehicle. Where's the vehicle? This isn't good," he said.
Kinsey said slot machines were knocked down like bowling pins and that one of the victims was pinned between a slot machine and the front of the car. Power was cut off to a portion of the casino as a fire precaution, silencing the ordinarily noisy machines.
"It was very quiet inside," Kinsey said. "Eerily quiet for a casino. Everyone was just busy. There were a lot of people being triaged."
Kinsey said there was no evidence at the scene of the driver attempting to brake. He said McGie refused to go to the hospital against the advice of medics for minor injuries he received in the crash.
Police have said that McGie suffered a possible medical incident just prior to the accident but have declined to elaborate.
McGie was booked into the Tucker Holding Facility in Laughlin and has since been released on $6,000 bail, according to jail officials.