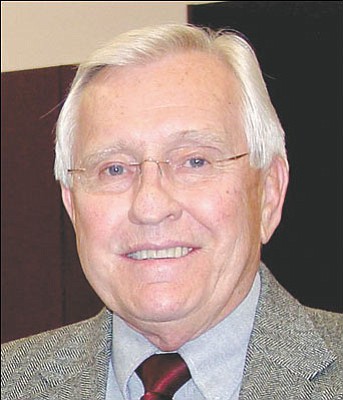 Originally Published: February 5, 2010 6 a.m.
KINGMAN - A Golden Valley man looking for an apology from county officials may take it to the next level. Luca Zanna has pulled papers to recall Board of Supervisors Chairman Tom Sockwell.
"This is a last resort. All I want is a public apology from Mr. Sockwell and the other supervisors and for the county to admit that their policy (prohibiting the public from passing out political information on county property) is wrong," Zanna said.
Sockwell was ill Wednesday and Thursday and unavailable for comment.
Zanna is particularly upset about a letter to the editor that Sockwell wrote that was published in the Jan. 21 Miner. In the letter, Sockwell recalls some of the silliness of the political activism of the 1970s. He also refers to the Mohave County Minutemen and their efforts to stop illegal immigration, asking if the group wants to stop every person with dark hair who doesn't speak English well. Zanna is a member of the Minutemen.
Zanna called the letter libelous.
"It was really out of line," Zanna said. "It was a personal attack on me and my wife. We are not hippies or racists."
Sockwell's letter also states that he met with Zanna on Nov. 3.
"How could he meet with me before the event, about what happened at the event?" Zanna asked.
On Nov. 13, Zanna was asked to stop handing out papers with Sen. John McCain's voting record during the senator's town hall at the County Administration Building. County officials pointed him toward an Arizona Revised Statute that prevents county officials and employees from using county supplies, equipment or their offices to influence elections.
The county has extended the statute to include the public in order to prevent any appearance of political activity on county property and to allow residents to enter and leave county buildings without being asked to sign petitions or listen to political speeches, County Attorney Bill Ekstrom said last month.
Zanna feels this policy infringes on the public's right to free speech.
Dan Barr, from Perkins Coie in Phoenix, an attorney who works with the Arizona Newspaper Association, didn't see anything in the language of the statute that would prevent someone from the public from passing out information on county property, as long as the person was not being disruptive.
Unless he gets an apology, Zanna said he will start seeking petition signatures for the recall. In order to put the recall on the ballot, Zanna would have to collect more than 3,700 signatures. He has 120 days to circulate and then return the signatures to the County Elections Department for verification. The Elections Department has 10 days to review the petitions before sending them to the Voter Registration Office. That office has 60 days to check the signatures and then return the petitions to the Elections Department to be placed on the ballot.
Zanna is considering starting a group, Mohave County Citizens for Constitutional Rights, that would work to restore civil rights in the county and bring more transparency to county government, he said.
Zanna is also planning to file a complaint with the Arizona Attorney General's Office. He would rather not waste taxpayer dollars by filing a civil lawsuit, but is prepared to do so if necessary, he said.
"I'm trying to give them every chance I can," he said. "But sometimes you have to put your head down and fight."