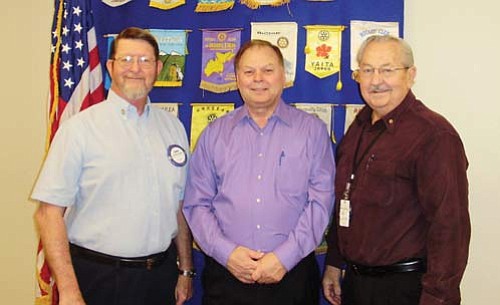 Originally Published: February 7, 2010 6 a.m.
Above: Jim Moore, president of E Mortgage Investments (above center with Rotary Club President Dan Messersmith and Speaker Chairman Jerry Ambrose), spoke to members of Kingman Route 66 Rotary Club at their Jan. 29 meeting. His topic was "My Credit Clinic," a non-profit HUD-certified organization that offers step-by-step procedures to improve an individual's credit worthiness.
Below: Past District Governor and Kingman Route 66 Rotary Club member Charlie Tegarden was presented with the Paul Harris Plus Seven award for Every Rotarian Every Year award, for his generous donations to Rotary over the past seven years. Shown presenting him with the pin and award are club President Dan Messersmith and club Rotary International Foundation Chair Ray Osuna.