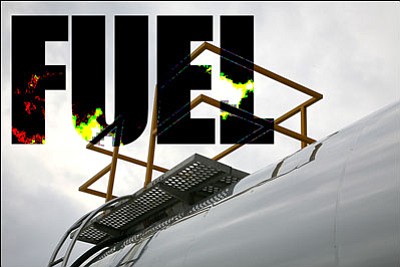 Originally Published: February 9, 2010 6 a.m.
KINGMAN - The Kingman Planning and Zoning Commission may take the first step tonight toward allowing above-ground fuel storage tanks in commercial zones.
Commissioners will consider a request from UNS Electric to amend the zoning ordinance to allow businesses zoned C-3: Commercial, Service Business to construct flammable liquid storage tanks above ground. The amendment as worded would allow the tanks only by conditional use permit, and would limit their capacity to a maximum 15,000 gallons.
UNS is seeking the amendment in order to build such a tank for its electronic operations center on the southwest corner of Airway Avenue and Harrison Street. UNS is proposed to use the tank to store fuel for its fleet vehicles, with access to the tank limited to a single mobile refueling tanker. Individual vehicles would not be allowed to use the tank to refuel.
The C-3 zoning district currently allows for underground fuel storage tanks, however, in its amendment application UNS noted that underground tanks have led to environmental problems due to leakage. If such an event were to happen with an above-ground tank, UNS argued it would be both more noticeable and more easily fixed, since the tank would not have to be dug up.
Without an amendment in place, however, UNS's only other option to build an above-ground tank would be to have the area rezoned to I-1: Light Industrial, which allows for such tanks under a conditional use permit. Such a rezone would also require a general plan amendment, and would likely draw fire from local residents, since there is no other I-1 zoning in the immediate area.
Commissioners will also revisit the issue of business signs that utilize LEDs, or light-emitting diodes. At its January meeting, planning and zoning staff presented commissioners with several options for regulating the signs, including placing limits on the duration and frequency of changing messages, as well as their acceptable nighttime brightness in different locations of the city.
The issue has been circulating through the Development Services Department since late last year, when members of the public raised concerns over the brightness of the Ridgeview Dental sign at 2535 Hualapai Mountain Road. Commissioners declined to take any action at their last meeting, determining they still did not have enough information to make a reasoned decision on regulating the signs.
Things may work out differently tonight, however, since several commissioners have took a "field trip" to Ridgeview Dental January 27 to watch a formal presentation of the sign's capabilities, including its options for lighting levels, message durations and colors.
Tonight's meeting begins at 6 in the Council Chambers at 310 N. Fourth St. For full agenda details, visit www.cityofkingman.gov and look under 'Agendas, Minutes and Video."